Trucking news and briefs for Wednesday, May 17, 2023:
Ryder announces new HQ location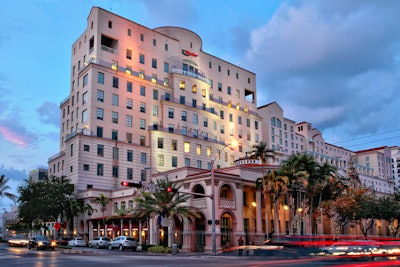 Ryder System (CCJ Top 250, No. 14) announced Tuesday the signing of a long-term lease for a new headquarters location at the state-of-the-art Colonnade office tower in Coral Gables, Florida.
Ryder had its beginning in South Florida and was founded in Miami in 1933 by Jim Ryder. The new office space is to be ready for occupancy in early 2024.
"In our 90th year, it was important that we honor our founding and remain headquartered in Miami-Dade County, which continues to be a logistics gateway and a county with a growing technology and innovation footprint," said Ryder Chairman and CEO Robert Sanchez. "Coral Gables is a nationally recognized and business-friendly city that will enable us to continue to attract and retain the best talent, and we look forward to calling it our new home."
The 11-story building, which will be adorned with the Ryder name and iconic compass logo and renamed Ryder Colonnade, is located at 2333 Ponce de Leon Boulevard at the corners of Coral Way and Ponce de Leon in the heart of the Coral Gables business district. Ryder is slated to occupy two floors of the building.
While most of Ryder's nearly 50,000 workforce is employed throughout North America, the Coral Gables office will be home to approximately 800 South Florida-based office employees, many of whom will remain working remotely or in a hybrid-work capacity. The new headquarters will be sized to a hybrid work style and be a customer showcase for Ryder technology and innovative solutions.
The space will also include a customer innovation center showcasing Ryder's expertise in advanced vehicle technology, e-commerce fulfillment, collaborative logistics, fleet optimization, and customer-facing automation technologies to provide customers with the tools needed to operate effectively in a changing world.
In March, Ryder announced it sold its current 16.8-acre global headquarters campus, which has housed Ryder's 248,989-square-foot headquarters office building since 2005.
Autocar announces partnerships for EV vehicle, infrastructure financing
Autocar announced this week it has partnered with Mitsubishi HC Capital America and ChargePoint to provide the Power Up Program, a bundled vehicle financing offering designed to help customers grow their electric fleets, as well as build and install charging infrastructure.
The partnership will allow Autocar customers to finance through Mitsubishi Capital their E-ACTTs (electric terminal tractor vehicles), along with integrated software, hardware charging solutions and installation services through ChargePoint, enabling them to deploy electric vehicles.
The companies said the Power Up Program will help customers quickly adapt to the evolving transportation landscape and stay ahead of the curve. The collaboration demonstrates a shared commitment to speeding up the adoption of electric vehicles and enabling customers to benefit from the latest innovations in sustainability.
"Electrification is coming to the heavy truck segment perhaps faster than the industry can keep pace with it," said Andrew Taitz, chairman of Autocar. "That's why the Power Up Program is there to bring financing solutions to the table for our customers who aren't used to making the kinds of capital investment required for electric fleets. By combining the financing, infrastructure, services, and installation, this partnership aims to reduce the complexities and capital investment of transitioning fleets to electric."
FMCSA names new Director of Governmental Affairs
The Federal Motor Carrier Safety Administration on Tuesday announced Brenna Marron as the agency's new Director of Governmental Affairs.
In this role, Marron will work closely with and advise FMCSA Administrator Robin Hutcheson and senior staff on coordination of the agency's legislative affairs, Congressional relations, and policy matters affecting federal, state and local government.
Marron brings more than a decade of federal political experience to the position, most recently in the role of Deputy Executive Director of the House Democratic Policy and Communications Committee. During her tenure, she served under the leadership of seven House members and a speaker of the house.
"Brenna is a proven leader and legislative strategist whose knowledge of transportation issues, commitment to safety, and focus on people reflect the values of this agency," said FMCSA Administrator Robin Hutcheson. "I look forward to collaborating with her to expand and enhance FMCSA legislative initiatives and build upon intergovernmental partnerships at all levels of government. I am confident her skillset will help advance FMCSA's mission of reducing commercial motor vehicle-involved crashes and improving safety for everyone traveling on our nation's roadways."
The appointment marks a return to the Department of Transportation for Marron. She previously served as an advisor within the Federal Railroad Administration and director of scheduling within the office of the Secretary during the Obama Administration. Marron is originally from Salt Lake City, Utah.
Volvo launches AR app to support first responders with electric trucks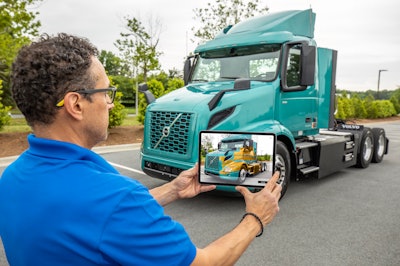 Volvo Group has launched an augmented reality (AR) safety app for electric trucks, designed specifically to support first responders in an emergency.
The app is developed to deliver instant, valuable information from the electric truck to the emergency services team arriving on the scene to guide them in real-time and ensure safe rescue conditions.
The technology involved in electric trucks – specifically the high-voltage systems capable of powering a heavy electric truck – is changing how to regard emergency response, as it requires its own set of new safety parameters and routines.
"Volvo Group's overall ambition is to deliver 100% safe products," said Lars Stenqvist, Chief Technology Officer Volvo Group. "We are proud to be at the forefront of the electric truck revolution with high-performing solutions, but we also recognize the importance of ensuring the safety of first responders who are called to an emergency should an incident with an electric vehicle occur. The new AR app is a powerful tool that can support the emergency services to quickly and safely secure the site, while minimizing the risk of injury to themselves and others."
The Emergency Response Guide app, now available for download free on the Android and Apple stores, provides safety information for all Volvo Group heavy electric truck brands, including Volvo Trucks, Renault Trucks and Mack Trucks. For Mack electric trucks, the AR features will be added in June.
By using a combination of connectivity, camera, sensors, 3D modeling, and augmented reality overlays, the safety app can provide first responders with a detailed view of the vehicle. It offers information on the location of high-voltage cables, battery packs, and other key components, as well as step-by-step instructions on how to safely shut down the electric vehicle's power supply in case of an emergency.
The app has been developed by a team of experts at Volvo Group's Research & Development facilities in Sweden, France and the United States. Apart from augmented reality information and 3D models, the app also contains all safety documentation relating to the electric truck, which will be accessible to the app user once the truck is identified.