Trucking news and briefs for Friday, Aug. 4, 2023:
Former Yellow employee sues company over failure to notify about layoffs
Yellow Corp.'s recent closure resulting in the termination of nearly 30,000 employees has prompted one former employee to file a class action lawsuit in the U.S. District Court for the District of Delaware claiming the company violated federal law by not giving employees proper notice before the layoffs.
Armando Rivera, who was a dock worker for Yellow (CCJ Top 250, No. 6) in California and a union steward from July 1998 through July 28, 2023, filed the lawsuit on behalf of himself and other former employees of Yellow Corp. and its subsidiaries – YRC Freight, USF Holland, New Penn Motor Express and USF Reddaway – "who were terminated without cause as part of, or as the result of, mass layoffs or plant closings" beginning on or around July 28.
The lawsuit claims the workers "were not provided 60 days advance written notice of their terminations" by Yellow, as required by the Worker Adjustment and Retraining Notification (WARN) Act or 90 days' notice as required by the New Jersey WARN Act.
[Related: Teamsters notified Yellow has ceased operations, will file bankruptcy]
Rivera's lawsuit also alleges that Yellow failed to pay its employees "their respective wages, salary, commissions, bonuses, health and life insurance premiums, accrued holiday pay and accrued vacation for 60 days following their respective terminations, and failed to provide employee benefits, including health insurance, for 60 days from and after the dates of their respective terminations."
For all of the class action members, the lawsuit seeks payment of unpaid wages, salary, commissions, bonuses, accrued holiday pay, accrued vacation pay, pension and 401(k) contributions and other ERISA retirement benefits, for 60 days, that would have been covered and paid under the then applicable employee benefit plans had that coverage continued for that period.
For New Jersey class members, the lawsuit also seeks severance pay equivalent to one week of pay for each full year he or she worked, plus an additional four weeks of mandatory severance pay.
The Teamsters Union announced Sunday, July 30, that it was informed that Yellow would be ceasing operations and filing for bankruptcy. The filing has yet to happen, but the company has seemingly ceased operations.
[Related: How a Yellow bankruptcy would influence freight, used truck markets]
Nikola surpasses 200 hydrogen fuel cell electric truck orders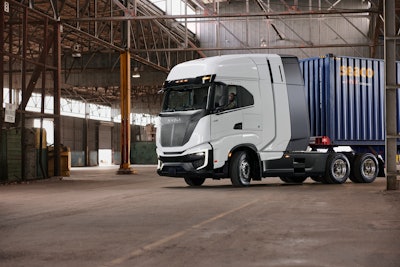 Nikola Corporation and its HYLA hydrogen energy brand announced this week that Nikola and its dealer network, with most of the agreements between fleets and dealers directly, have surpassed 200 sales orders for Class 8 Nikola hydrogen fuel cell electric vehicles. The 202 sales orders for the purpose-built heavy-duty trucks represent 18 end customers, the company said.
The trucks recently started series production in Nikola's Coolidge, Arizona, manufacturing facility. Deliveries are expected to begin later this year, with some following the satisfactory completion of a demonstration program.
"This remarkable demand for our hydrogen fuel cell electric truck confirms the industry's trend toward sustainable transportation solutions," said Michael Lohscheller, Nikola's President and CEO. "We are proud to achieve this milestone of 202 sales orders together with our dealer network, as we believe it demonstrates the level of confidence our customers and stakeholders have in our vision and technology, as well as our HYLA hydrogen supply and infrastructure solutions. This milestone is a testament to the hard work and dedication of the entire Nikola team."
[Related: Nikola truck erupts in flames again, company still suspects 'foul play']
Nikola's hydrogen fuel cell electric truck features a range of up to 500 miles and an estimated fueling time of approximately 20 minutes and is expected to have among the longest ranges of all commercially available zero-tailpipe-emission Class 8 trucks. Nikola's hydrogen fuel cell electric truck is well-suited for a variety of applications ranging from drayage and intermodal to metro-regional truckload and less-than-truckload to certain specialized hauling use cases, the company noted.
The California Air Resources Board's Hybrid and Zero-Emission Truck and Bus Voucher Incentive Project ("HVIP") program further accelerated securing a majority of the 202 sales orders. Nikola became HVIP eligible in 2023, which enables Nikola's hydrogen fuel cell electric truck customers to access a point-of-sale incentive starting at $240,000 and ranging up to $288,000 per truck. In addition, Nikola customers will also be eligible for a $40,000 clean commercial vehicle tax credit from the federal government as part of the Inflation Reduction Act.
An additional incentive for Nikola customers is the New Jersey Zero-Emission Incentive Program (NJ-ZIP) voucher pilot for medium- and heavy-duty vehicles. This program, launched by the New Jersey Economic Development Authority, provides a $175,000 base voucher per Class 8 zero-emissions vehicle and additional percentage bonuses available for small business applicants and other qualifiers.
[Related: Check out Nikola's fuel cell electric truck]
House bill looks to repeal driver training regs
U.S. Rep. Bob Good (R-Virginia) has reintroduced a bill that would repeal the Federal Motor Carrier Safety Administration's Entry-Level Driver Training (ELDT) rule. Good first introduced the bill last October in the previous Congress.
Good said the bill, titled the Trucking Workforce Improvement Act, would repeal "a burdensome federal regulation on training for a commercial driver's license."
The ELDT final rule was published in December 2016 and, after implementation was delayed until February 2022, established minimum training standards for new CDL applicants.
Good cited a shortage of truck drivers as a primary reason for his bill.
"The ongoing trucker shortage impedes our local farmers and manufacturers from doing business with their communities, driving prices up for consumers across the country," he said. "With rising inflation and a job shortage thanks to Bidenflation, the last thing Americans need is more regulatory overreach from bureaucrats in Washington. My bill will remove obstacles to entry for aspiring truck drivers, enable more opportunities for well-paid jobs, and unleash the American economy."
Good's bill currently has 14 Republican co-sponsors.
Relay accepting nominations for Haul of Fame, NASCAR trip
To celebrate truck drivers, Relay Payments is now accepting nominations for drivers who should be inducted in the company's "Haul of Fame."
After a nomination period, two winners will be selected to win an all-inclusive trip to a NASCAR race during Truck Driver Appreciation Week. Relay recently partnered with NASCAR team Hendrick Motorsports and driver William Byron on a sponsorship deal.
Criteria for nominations for Relay's Haul of Fame include:
Nominees have enhanced the image of trucking, had a positive impact on the industry and served their community
The nominee must be 21+, a U.S. citizen and hold a current CDL
Owner-operators can nominate themselves
All nominations must be submitted by Aug. 20 at 11:59pm Eastern time.
Each winner will receive:
Two tickets to the NASCAR Bass Pro Shops Night Race at Bristol Motor Speedway on Sept. 16
Airfare for two and a night at the Red Roof Inn in Kingsport, Tennessee
Transfers to and from the track and spending money
Exclusive Relay #24 race car swag signed by William Byron