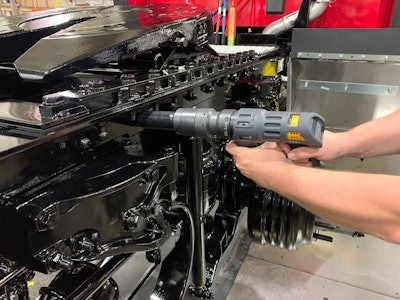 With backlog-to-build ratios stretching into 2023, Class 8 truck orders last month hit just 15,800 units, according to preliminary data released this week by ACT Research.
April's activity marks the first time Class 8 truck orders failed to cross the 20,000 unit mark since November and snaps a three month streak of consistency that saw truck count slot into a narrow range around 21,000. FTR pegged April's order intake down 28% month-over-month and -56% year-over-year.
Widespread component shortages have prevented truck manufacturers from ramping up production for more than a year and ACT Vice President and Senior Analyst Eric Crawford noted there are few signs of near-term relief.
[Related: Truck orders, other metrics reflect strength in freight market]
"Recent commentary from the semiconductor industry is discouraging," he said, "with ASML – a key supplier of semiconductor production equipment – pointing to a 'significant shortage of semiconductor manufacturing capacity this year and next,' suggesting headwinds to OEM production capacity and, by extension, lower-for-longer orders potentially into 2023."
OEMs have yet to open their order boards for 2023 and with no clear visibility about the easing of "the everything shortage," Crawford said April's net orders reflect the ongoing conservative approach by manufacturers looking to limit the risk of overbooking and underbuilding that was prevalent last year.
Class 8 orders have totaled 280,000 units over the last 12 months, according to FTR, and Charles Roth, FTR's commercial vehicles analyst, noted that April's order total does not accurately reflect the current demand for new trucks. "It does however," he said, "reflect a market that is trying to minimize its exposure to the headwinds it could potentially face in 2023."
"As production continues to be significantly impacted by supply chain disruptions, component shortages, labor shortages and increased material costs, the hesitancy to open 2023 order boards stems from not being able to guarantee pricing given the current environment," Roth added. "Once supply chain issues improve, OEMs will be able to substantially increase orders. But until then, conditions remain stagnant."