Trucking news and briefs for Friday, May 6, 2022:
Penske to maintain Torc trucks
Penske Truck Leasing will serve as the truck maintenance service provider for Torc's autonomous test fleet, the companies announced Thursday.
Torc founder and CEO Michael Fleming lauded Penske Truck Leasing's expertise and track record in the global trucking industry as playing a significant role in getting his company's trucks on the road and strengthening its goal of safe operations.
"Our objective is to integrate our trucks into the existing freight industry, and we are confident that a current industry leader, like Penske, will provide crucial support in doing just that," he added.
This agreement is part of Torc's ongoing commercialization of autonomous trucks for long-haul applications.
Torc recently announced the Torc Autonomous Advisory Council (TAAC) in support of its goal to be the first scalable, profitable, commercialized Level 4 truck solution. Penske Truck Leasing, along with key freight industry leaders, will provide strategic guidance to Torc as it integrates with the freight network and tackles challenges beyond highway driving.
Daimler Truck makes investment in smart machine company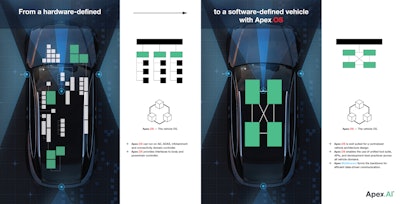 Daimler Truck has taken a minority stake in Apex.AI, a company developing safety-certified software for mobility and autonomous applications, joining companies like Toyota Ventures, Volvo Group Venture Capital, Jaguar Land Rover's InMotion Ventures, Airbus Ventures, Continental AG, ZF, AGCO, and HELLA Ventures.
Apex.AI has developed a suite of automotive safety-certified software solutions, including the Apex.OS operating system. The software suite serves as the foundational infrastructure on which smart machines operate in the automotive, agriculture, mining, IoT and industrial automation industries.
The Apex.OS SDK enables automotive software developers to create safe, reliable, real-time applications more efficiently. Like Apple's iOS SDK, which allows practically anyone to create an iPhone app, Apex.OS makes programming for a vehicle or robot almost as easy as programming a phone. The result is significantly shortened development cycles of new mobility functions, all of which are created on a bedrock of software that's recognized for having the highest safety standards.
Apex.AI's flagship Apex.OS operating system is an operating system that has earned the highest safety certifications in the industry, including product certification from German testing organization TÜV Nord and the highest level of automotive software safety ISO 26262 ASIL-D. Passing these rigorous testing programs means that the software system is approved for serial production.
Volvo Autonomous Solutions intros new hub-to-hub autonomous offering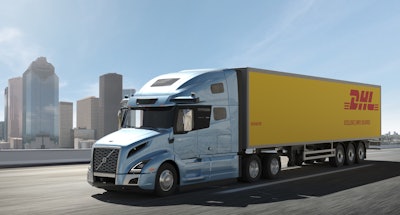 Volvo Autonomous Solutions (VAS) is offering a new hub-to-hub autonomous transport solution, designed to serve four main customer segments: shippers, carriers, logistics service providers and freight brokers. Each offering will be configured to suit the business needs of the specific segments while addressing the growing demand for goods movement in North America, the company said.
VAS also announced that it will partner with global logistics provider DHL Supply Chain as its first customer to pilot the hub-to-hub solution, representing Volvo's goal to develop a business model with customers that will address the steps required to bring its autonomous offerings to market.
VAS, in collaboration with Aurora, has been working toward offering autonomous trucks in the U.S., while also developing a complete Transport-as-a-Service (TaaS) solution for integrated and scalable autonomous freight capacity for highway applications. Presented Thursday, the Autonomous Transport Solution will be configured to different customer-segment requirements to transport freight autonomously on major U.S. highway networks.
"Today, the increasing demand for freight is outgrowing capacity, and solutions must be bolder, safer, smarter and more sustainable to move the world forward," said Nils Jaeger, president of Volvo Autonomous Solutions. "This is more than an autonomous truck – it is the Autonomous Transport Solution, which we believe will create value for the entire transportation ecosystem, all with optimized operations that reduce emissions and increase safety."
VAS is working across all four customer segments to finalize strategic partnerships with "Key Customers" – segment leaders who will pilot the Autonomous Transport Solution. These partnerships will allow VAS to understand the needs of each specific segment in real-world applications and develop and adapt the offerings based on inputs and findings experienced across the entire transportation network.
TA Citizen Driver nominations open
TravelCenters of America has opened the nomination period for its 2022 TA Citizen Driver Contest.
Each year, TA hosts the contest as an initiative to give back to the trucking community. It recognizes over-the-road truck drivers who evoke public respect for the truck driving profession.
Families, friends and coworkers can nominate a truck driver who exemplifies a strong work ethic and character through the online nomination form through June 30.
There will be two grand prize winners for the 2022 TA Citizen Driver Award, as well as 10 finalists who will also receive awards. Additionally, there will be a live award ceremony honoring the winners and their tenacity.