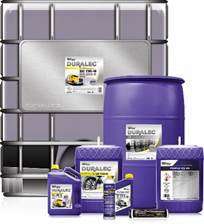 Royal Purple is rolling out a new Commercial and Fleet Vehicle product line, including high-efficiency hydraulic fluid, multi-purpose tractor fluid, fuel additive, coolant supplement and chassis lube.
Developed with various Royal Purple technologies including Synerlec and Synslide, the company says the product line is specially formulated for fleet applications including tractors, construction vehicles, over-the-road trucking, mining, agriculture and off-road fleet vehicles.
Debby Neubauer, Royal Purple Vice President of Marketing, says the new lineup is designed to supplement the company's Duralec line of commercial-grade motor oils, gear oils and transmission fluids.
"When this line was created, our goal was to better equip fleet vehicles for the frequent wear and tear they encounter, the products offer high levels of protection for the vehicles," she adds.
The full Commercial and Fleet Vehicle product line includes:
Syndraulic Fluid
32 – 46 – 68
Royal Purple's Syndraulic is a clean, long-lived, high-efficiency hydraulic fluid designed to increase hydraulic system reliability and longevity along with a variety of other benefits.
Syntractor III
Universal Tractor Fluid with Synerlec 
Syntractor III is high film strength, multi-purpose tractor fluid for numerous tractor applications, and is recommended for tractors with a common fluid reservoir for transmission, hydraulics and brakes. A Winter Grade variant is also available for cold climates.
Max-Tane
Diesel Fuel Additive
Max-Tane provides cetane boost, anti-gel, powerful detergency, and lubrication for the entire diesel fuel system. It is suitable for light and heavy duty use, and is compatible with all grades of diesel and biodiesel fuels.
Purple Ice HD
Heavy Duty Cooling System Optimizer
Royal Purple's Purple Ice HD coolant supplement helps prevent cavitation and cylinder wall erosion, increases heat transfer through the cooling system, and provides outstanding corrosion protection.
Ultra Performance Grease
NLGI #2 Grease featuring Synslide
A multi-purpose EP #2 grease intended for bearing and chassis lubrication.  Formulated with proprietary SynSlide high film strength additive technology, UPG is an excellent choice for wheel bearings, u-joints and lubricated chassis points.