Trucking news and briefs for Monday, May 2, 2022:
OOIDA decries FMCSA's revival speed limiter mandate
The Owner-Operator Independent Drivers Association has long opposed speed limiter mandates on trucks and last week criticized a new announcement from the Federal Motor Carrier Safety Administration about proceeding with a controversial speed limiter rulemaking.
The American Trucking Associations said last week it supported speed limiter regulation – a position ATA has held for many years. OOIDA said that policies and devices that limit speeds for large trucks create unnecessary congestion and dangerous speed differentials among vehicles, which lead to higher accident involvement rates.
In its notice of intent, FMCSA said it is preparing a supplemental notice of proposed rulemaking to follow up on a 2016 joint proposal with the National Highway Traffic Safety Administration.
"Studies and research have already proven what we were all taught long ago in driver's ed classes, that traffic is safest when vehicles all travel at the same relative speed," said OOIDA President Todd Spencer. "Limiting trucks to speeds below the flow of traffic increases interactions between vehicles which can lead to more crashes."
Additionally, most crashes involving CMVs occur in areas with speed limits below 55 mph, mitigating the effect of any potential mandate, OOIDA added.
"What the motoring public should know is that when they are stuck behind trucks on long stretches of highway, those trucks are often limited to a speed well under the posted speed limit," Spencer noted.
OOIDA, in 2017, published this video explaining the issues it sees with mandating speed limiters on trucks.
One sentenced, one pleads guilty in New Orleans staged-accident fraud scheme
More court action was announced recently in the ongoing staged-accident fraud scheme case targeting trucking companies and their insurers in Louisiana. U.S. Attorney Duane A. Evans announced the sentencing of one individual and the guilty plea of another for their roles in the case.
Donisha Lee was sentenced to 10 months in prison, three years of supervised release, 100 hours of community service, restitution in the amount of $121,076.75, and a $100.00 special assessment fee.
According to court documents, Lee, along with her co-defendents, conspired to commit mail fraud in connection with a staged collision on Sept. 6, 2017. Lee admitted that, on I-10 near the Almonaster exit, she was a passenger in a car that intentionally crashed into a tractor-trailer owned by Averitt Express. She then provided false testimony in depositions related to the case and lied about the accident regarding who was driving the car and the extent of their injuries.
Additionally, Evans announced the 37th guilty plea in the case. David Brown plead guilty to conspiracy to commit mail fraud for his role in the case. He faces a maximum penalty of five years in prison, up to three years of supervised release and a fine up to $250,000.
According to court documents, Brown falsely claimed that he was a passenger in a car that was struck by a tractor-trailer on May 11, 2017. In fact, the defendant conspired with others to intentionally collide with a tractor-trailer in the area of Chef Menteur Highway and Downman Road in New Orleans.
After the intentional collision, Brown falsely informed New Orleans Police Department officers at the scene that he had been driving the vehicle and that the tractor-trailer was at fault. He also filed a fraudulent lawsuit and lied in a deposition.
This scheme caused the insurance company for the tractor-trailer to pay over $140,000.00 in settlement funds for the May 11, 2017, collision.
U.S. Xpress recognizes drivers for safe driving milestones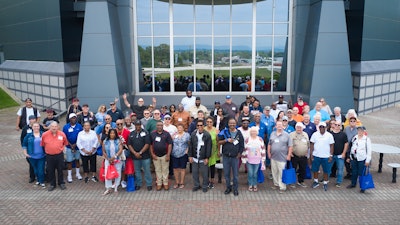 U.S. Xpress (CCJ Top 250, No. 16) honored 153 of its truck drivers from its U.S. Xpress and Variant brands for more than 180 million combined miles of safe driving during an awards ceremony last week at the company's Chattanooga, Tennessee, headquarters.
Drivers recognized achieved these career milestones in 2019 and 2020, but due to the COVID-19 pandemic, were not honored with an in-person ceremony until it was safe to do so.
"Professional truck drivers are the backbone of our country's supply chain, and now, more than ever, we celebrate these true road warriors who have each achieved significant milestones of safe driving," said Eric Fuller, President & CEO of U.S. Xpress.
Two Variant drivers, Larry Holmes from Dothan, Alabama, and Johnny Loftis from Reidsville, North Carolina, reached more than 3 million miles each throughout their careers. U.S. Xpress driver William Freelove of Rome, Georgia, reached 3 million safe miles and was recognized as the longest-tenured driver in attendance.
In addition to the awards ceremony, U.S. Xpress and Variant drivers were celebrated by office employees in a Million Miler Walk of Fame and breakfast at company headquarters, followed by afternoon activities and socializing with office staff and company leadership. Each driver also received a personalized award and company merchandise.
The awards ceremony was part of a two-day event hosted by U.S. Xpress for drivers and their guests, which has been a company tradition since 1995. U.S. Xpress will hold another awards ceremony in June, recognizing drivers with mileage milestones that occurred in 2021.