Trucking news and briefs for Tuesday, April 25, 2023:
NHTSA estimates decrease in highway fatalities in 2022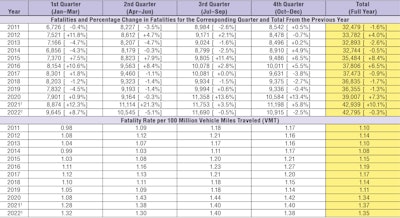 If preliminary numbers from the National Highway Traffic Safety Administration hold true, traffic fatalities saw their first annual decline in 2022 since 2019.
A statistical projection of traffic fatalities for 2022 from NHTSA shows that an estimated 42,795 people died in motor vehicle traffic crashes -- a marginal decrease of about 0.3% from the 42,939 fatalities reported to have occurred in 2021.
"We continue to face a national crisis of traffic deaths on our roadways, and everyone has a role to play in reversing the rise that we experienced in recent years," said U.S. Transportation Secretary Pete Buttigieg. "Through our National Roadway Safety Strategy, we're strengthening traffic safety across the country, and working toward a day when these preventable tragedies are a thing of the past."
After an 8.7% increase in traffic fatalities in the first quarter of 2022 compared to the same quarter the previous year, the second, third and fourth quarters of 2022 saw year-over-year decreases in fatalities, with the fourth quarter seeing a 2.5% decrease in traffic deaths from 2021.
The decrease in fatalities come as total vehicle miles traveled (VMT) during the year increased by about 29.3 billion miles, or 0.9%, from 2021. The fatality rate in 2022 fell to 1.35 fatalities per 100 million VMT, down from the reported rate of 1.37 fatalities per 100 million VMT in 2021.
NHTSA noted that the fatality counts for 2021 and 2022 and the ensuing percentage change from 2021 to 2022 will be further revised as the FARS final file for 2021 and the annual report file for 2022 are available later this year.
NHTSA's preliminary fatalities report did not include statistics related to truck-involved crashes.
C.H. Robinson intros revamped carrier loyalty program
C.H. Robinson has announced updates to its carrier loyalty program, including changes in how carriers are scored and the benefits they can earn.
First launched in 2016, the company's Carrier Advantage Program rewards carriers that provide the highest level of tracking updates and the best on-time performance on their C.H. Robinson loads.
In the wake of two highly disrupted and volatile years in freight transportation, shippers are looking for greater reliability in tracking their freight and a return to pre-pandemic levels of service. The updates to the Carrier Advantage Program incentivize all carriers in C.H. Robinson's extensive network to meet those higher expectations.
Carriers will now have access to different levels of freight based on their Carrier Advantage status, with top-performing carriers getting the most and earliest access to freight. Carriers earning the highest status also get better payment terms and better fuel discounts than carriers in the lower tiers. The new scoring criteria went into effect April 3. Carriers can watch their progress with each load, but their status won't change until May 2.
In the meantime, C.H. Robinson has helped carriers learn all their options for automating updates, enhanced its carrier app and website to save carriers time filling in required information, and added notifications to alert carriers when their tracking isn't enabled or isn't working.
All carriers working with C.H. Robinson are automatically enrolled in the loyalty program. Current carriers needing additional help to optimize their Carrier Advantage score and benefits can find out more at C.H. Robinson's website, in the Navisphere Carrier app or by calling their C.H. Robinson representative.
Schneider exec named Distinguish Woman in Logistics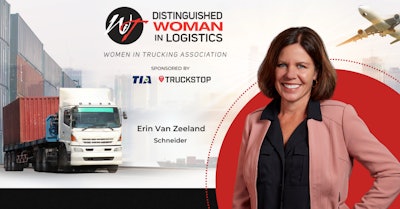 The Women in Trucking Association (WIT), Truckstop, and Transportation Intermediaries Association (TIA) announced last week that Erin Van Zeeland, senior vice president and general manager of logistics and serves as the chief commercial officer for Schneider (CCJ Top 250, No. 9), as the winner of the ninth annual Distinguished Woman in Logistics Award (DWLA).
Van Zeeland was chosen among three finalists for the award. The other finalists included Katerina Jones, chief marketing officer for Fleet Advantage, and Nanette Malebranche, managing director of the Tri-State District for FedEx Express (No. 1). The finalists and winner were recognized during the TIA 2023 Capital Ideas Conference & Exhibition.
"We're pleased to recognize Erin with the honor of Distinguished Woman in Logistics," said Jennifer Hedrick, president and CEO of WIT. "Throughout her career at Schneider, as well as in her volunteer work, she has shown exceptional talent, leadership and mentorship of others – three of the key characteristics of this award."
Van Zeeland is accountable for the strategy, execution, and growth/profitability of Schneider's fastest growing division, which includes brokerage, supply chain, and distribution management, as well as the power-only service offerings. Additionally, Van Zeeland is the company's chief commercial officer. In this capacity, she is responsible for overall organizational strategy including activities relating to marketing, sales, sales force effectiveness, product development, and services that drives business growth and expanded market share.
She started her career at Schneider in 1993 and has subsequently held several leadership roles in a variety of positions with increasing responsibility for customer growth and business expansion throughout operations, tech, business transformation, human resources, enterprise/global customer engagement, and logistics.
Schneider partners with new rail giant
Schneider announced last week that it has signed a multi-year agreement with the newly-formed Canadian Pacific Kansas City (CPKC) rail company, formed after a merger between Canadian Pacific and Kansas City Southern, to provide new single-line intermodal transportation service on CPKC's north-south corridor connecting the United States and Mexico.
Schneider will transition Mexico-U.S. freight to CPKC starting in mid-May and will serve as a primary carrier on CPKC's north-south flagship intermodal service between Chicago and all major points in Mexico.
Canadian Pacific's history of operational excellence and service performance combined with the strong history of the KCS and Schneider's fleet of professional dray drivers and fully asset-based business model, will bring increased reliable service for moving freight between the U.S. and Mexico, Schneider said.
[Related: 'Get ready to compete': New rail behemoth sets sights on trucking]
Lineage Logistics opens new Georgia facility
Lineage Logistics last week celebrated the grand opening of its newest facility in Port Wentworth, Georgia. Savannah Fresh-Port Wentworth is strategically located near the Port of Savannah, the largest single-terminal container facility of its kind in North America and the third busiest container gateway in the U.S.
The 220,000-square-foot facility offers cross-docking services for products to enter and exit the facility on the same day if needed, reducing storage time, creating cost efficiencies and ensuring consumers receive fresh produce faster. The facility has 23 inbound and outbound lanes that can process more than 40 trucks daily, moving up to 1.4 million pounds of produce per day.
"Today, the demand for port-centric temperature-controlled storage has never been greater and our Fresh solution offerings at Lineage have never been more robust," said Jim Henderson, Vice President of Global Sales and Business Development at Lineage. "Savannah Fresh-Port Wentworth will allow us to expand our Fresh offering to new and existing customers and also provides the needed capacity to improve market conditions."
Savannah Fresh-Port Wentworth was designed to address the overwhelming influx in imports of fresh produce to ports in the Mid-Atlantic that lack the space to keep up with the demand. With proximity to the Port of Savannah, the new facility will enable Lineage to deliver larger quantities of fresh produce more efficiently to serve customers across the Southeast.
Aim Transportation Solutions partnering with Kaleel Brothers
Kaleel Brothers, a midwest food distributor delivering within a 600-mile radius around Youngstown, Ohio, has tapped Aim Transportation Solutions (CCJ Top 250, No. 144) as its dedicated fleet provider.
Kaleel delivers to MetLife Stadium, Dairy Queen, A&W and DiBella's Subs, among others, and the Aim-Kaleel operation will begin with 10 tractors, 10 drivers, an on-site supervisor and refrigerated trailers for temperature-sensitive products. Aim is headquartered in Ohio and has over 100 operations and services over 11,000 vehicles throughout the United States with a reach as far west as Utah and as far east as upstate New York.