Trucking news and briefs for Thursday, May 11, 2023:
FMCSA report on impacts of 2020 HOS changes mostly inconclusive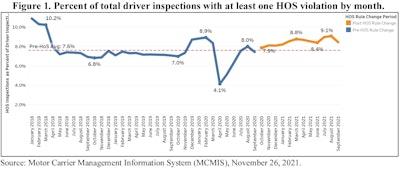 The Federal Motor Carrier Safety Administration said in a new report to Congress that since the 2020 changes to the hours-of-service regulations took effect, hours of service violations have seen a significant uptick, while crashes and fatalities have held mostly flat.
The agency noted, however, similarly to its report to Congress on the effectiveness of the electronic logging device mandate, that "initial trends may have been confounded by the COVID-19 pandemic's effects on industry operations and FMCSA's emergency declaration that provided HOS regulatory relief for commercial motor vehicle operations providing direct assistance in support of COVID-19 relief efforts."
The report to Congress was required by a Joint Explanatory Statement accompanying the Consolidated Appropriations Act of 2021. It requested that FMCSA conduct an analysis by comparing "safety data, including but not limited to, the number of crashes, crash type, number of fatalities categorized by occupant type, number of serious injuries, the rate of involvement that large trucks have accidents, and the time of day and on what type of roadway the accident occurred."
In the report, FMCSA analyzed inspection and crash data from Jan. 1, 2018, through Sept. 30, 2020 for the pre-change period, and Oct. 1, 2020, through Sept. 30, 2021, for the post-change period.
The agency found that driver inspections with at least one hours-of-service violation increased from 7.6% before the HOS changes took effect to 8.5% after the changes, and that driver inspections with one or more out-of-service HOS violation increased from 2.6% to 3.2%. At the same time, the monthly large-truck crash rate per 100 million miles only increased from 5.58 to 5.7, and the monthly large-truck fatality rate per 100 million miles increased from 0.164 to 0.167.
Regarding crash trends, FMCSA said no conclusions can be drawn yet because the analysis could not distinguish between drivers using and not using the COVID-19 HOS waivers.
FMCSA said another approach that could be taken to understand the impact of the HOS changes would be to analyze the safety outcomes of drivers who took advantage of the new provisions and waivers.
"There is very limited data to support an in-depth analysis of the safety outcomes of carriers that took advantage of the new HOS provisions in comparison to those that did not," FMCSA concluded. "The pre- and post-rule change macro trend analysis is limited in its reach given the scale of the HOS rule changes and other confounding factors."
ATRI appoints new board member
James Burg Trucking Company President Jim Burg has been appointed to the Board of Directors of the American Transportation Research Institute (ATRI).
Burg was appointed by ATRI Chair Derek Leathers, chairman, president and CEO of Werner Enterprises (CCJ Top 250, No. 13), at the Institute's board meeting in Hollywood, Florida, on May 5.
"Jim has been a loyal supporter of ATRI and we are excited to welcome him to the Board of Directors," Leathers said. "As a regional carrier, he brings an important perspective to the Board and we look forward to his involvement as we continue to address trucking's top research priorities."
Burg began his career in trucking more than 40 years ago. He was an owner-operator for eight years before incorporating and licensing his company, which is a flatbed carrier currently operating more than 90 trucks throughout the Midwest.
During Burg's career, he has logged over 1.3 million miles operating commercial motor vehicles while simultaneously focusing on the complexities of transportation and meeting his customers' needs. He has spent countless hours on innovative truck and trailer design to achieve the most efficient flatbed equipment in the industry.
Burg is active in the trucking industry and has served on numerous committees and boards of the American Trucking Associations, PrePass Safety Alliance, Commercial Vehicle Safety Alliance and the Michigan State Police.
ContainerPort Group names new SVP of Customer Experience
ContainerPort Group (CCJ Top 250, No. 81) announced the promotion of Jackie Csiszar to Senior Vice President of Customer Experience (CX), highlighting the company's commitment to customer success and service excellence.
"Jackie has been an invaluable member of the CPG leadership team for several years," said Joey Palmer, President of CPG. "She has spearheaded initiatives to create a more cohesive and streamlined customer experience, and we have been thrilled with the results. Both internal teams and customers have praised her leadership and the seamless integration of customers as genuine partners in our business."
Csiszar's career spans more than 27 years, beginning with World Group's vessel operations division, World Shipping, Inc. After progressing through multiple roles of increasing responsibility at World Shipping, she led the company to become the top vessel husbandry organization on the Great Lakes. She joined CPG as Vice President of Customer Experience in March of 2021, where she has been instrumental in guiding CPG's evolution to better serve its customers.
Under her guidance, CPG has achieved record truck count and consistent freight growth, including the expansion into new markets. She has been instrumental in aligning the people, process, and technology to ensure positive interactions between customers, new and existing terminal locations, and internal teams.
"I'm excited to continue building bridges between our teams and our customers," Csiszar said. "Our customers are the backbone of our organization - without their support, we would not be where we are today. It's a privilege to continue serving them and finding new ways to strengthen our relationships."
ATA seeks America's Road Team Captain nominations
The American Trucking Associations is seeking nominations for truck drivers to serve on the 2024-2025 America's Road Team.
Every two years, ATA searches for drivers with superior skills and sterling safety records who are willing to take time away from the cab to demonstrate the trucking industry's commitment to safety.
Sponsored exclusively by Volvo Trucks North America for over 20 years, the Road Team captains promote the trucking industry by engaging with the public, media, and elected officials, highlighting the industry's safety record and career opportunities.
"Since the first America's Road Team was named in 1986, these men and women have exemplified the very best our industry has to offer," said ATA President and CEO Chris Spear. "These proud and patriotic Americans embody what makes our industry the greatest in the country: commitment to service, safety, and professionalism. They are the best spokespeople trucking has and we eagerly await welcoming the next group of drivers into this elite fraternity."
ATA members are encouraged to nominate truck drivers who exhibit strong interpersonal skills, have impressive safety records, and demonstrate a positive attitude toward the industry and their careers. Nominations for the 2024-2025 class of America's Road Team are due Sept. 5.
To nominate a driver, visit the official page for America's Road team. Finalists will be announced Oct. 27, with the final selection taking place in January 2024 in Washington.
Penske opens new full-service leasing facility in Washington state
Penske Truck Leasing recently opened a new facility in Pasco, Washington, off of U.S. Highway 395.
At the location, Penske will offer consumer and commercial truck rentals, full-service truck leasing and contract truck fleet maintenance services. It is also outfitted with the company's proprietary digital and voice-directed preventive maintenance process and other digital experience offerings to help fleet customers make the most from technologies such as telematics, onboard cameras, ELDs, and Penske's own technologies.
"We've been growing steadily in the northwest region and required a larger space to accommodate our increasing customer base in and around the Pasco area," said Chavela Brown, area vice president – Northwest region, Penske Truck Leasing. "The added capabilities and capacity at this incredible facility maximizes fleet uptime, and a state-of-the-art environment, with cutting-edge technology for our associates."
At 12,301 square-feet and sitting on 6.21 acres, this facility features three drive-thru bays, plus an automatic truck wash bay, and a full-service fuel island – offering diesel, diesel exhaust fluid, and gasoline.