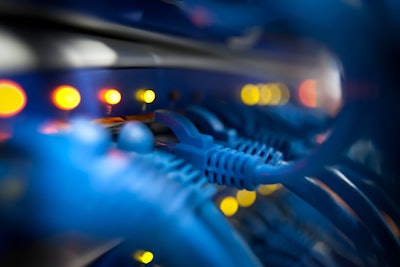 Managing fleet safety data is similar to a hub-and-spoke transportation network. Just as freight is picked up from various locations and consolidated at a warehouse or distribution center, fleets need to do the same with loads of safety data coming from different sources — ELDs, telematics systems and cameras, to name a few.
All of this data has to be reviewed and acted upon, which can be difficult given the distributed workforce of drivers. To be effective, fleet managers also need information to be predictive of accident risk, but tailored to specific driver needs.
"I've learned from experience that one size can't fit all," said Cody McLain, director of safety and human resources at Tucker Freight Lines, a Dubuque, Iowa-based truckload carrier that specializes in dry van, open deck and heavy hauls. "You always want to make sure you are assessing where you are at with a driver, and what they need to be successful."
McLain participated in a webinar this week that was presented by Idelic, one of several technology companies that offer software platforms that bring safety data together from various sources into a central hub for management.
Having safety data in a single location can help office staff be more efficient and prevent information from getting overlooked or mismanaged. When accidents happen, the systems also have a central record of safety data that creates alignment between the awareness of risk and actions that match fleet safety policies to provide legal protection.
Direct channel for safety alerts
One option that fleets are using to close the loop on safety data provides drivers with location-based safety alerts for areas of risk.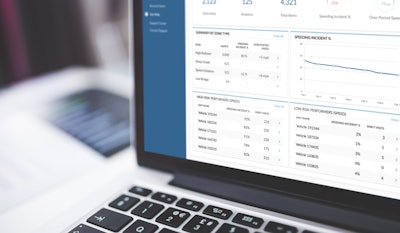 Fleets can use the Drivewyze mobile weigh station bypass service, which already integrates with their existing telematics platforms, to give drivers advance, in-cab alerts for safety risk zones. The alerts act as virtual road signs to warn drivers in advance of road sections that have a high-risk probability for rollovers and speeding citations, among other possibilities.
[Related: New Drivewyze service zeroes in on driver behaviors in high-risk zones]
Drivewyze currently has approximately 2,800 of these curated location-based alerts, said Charlie Mohn, the company's director of product innovation, and is adding new alerts for parking availability.
Fleets are able to create their own custom alerts, he added. When a driver returns to a fleet terminal, for example, an automatic message could welcome the driver back.
Fleet managers can use a Drivewyze portal, HUB, to monitor how drivers are responding to the alerts. The portal has metrics that show if drivers slowed down in risk zones. Safety managers may want to review the data weekly, he said, to identify drivers in need of additional training who have the highest number of speeding incidents and other repeat patterns.
"We are providing in-cab alerts before drivers get citations or have problems," he said. "A data-driven approach to safety is really important."
Documenting corrective actions
Idelic has a driver management platform – the Idelic Safety Suite – that brings together data from various sources that include telematics, cameras, ELDs and transportation management software (TMS). The cloud-based platform has a scoring system and a dashboard that shows the distribution of risk scores, as well as a "watch list" for drivers with the highest scores.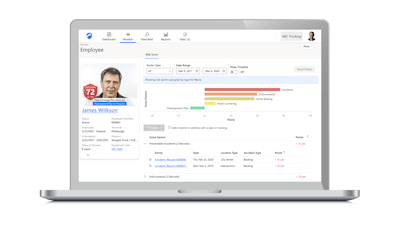 The system tracks the actions of driver managers that respond to risk scores. Managers use the system to record coaching and training assignments as part of their company's structured performance improvement plan.
Users can go to individual driver profiles to see a breakdown of drivers' risk scores based on the data coming from ELD, telematics, cameras and other sources.
The Idelic Safety Suite tracks and documents corrective actions taken by the fleet, said Brett Stevenson, vice president of business development. When meeting with drivers in person, managers can review the records and show drivers they are "on the same team," he said, "trying to help them improve."
Motor carriers that utilize more than one vendor for telematics may find that getting driver safety data normalized to be a challenge, since each vendor may score behaviors differently.
George Thellman, senior director of transportation management solutions for EOX Vantage, said the safety module of the company's enterprise operating system for motor carriers, has a driver scorecard feature that fleets use to normalize safety data and manage it from one location.
Besides getting driver behavior data in one location, the EOX platform can pair behaviors with driver training modules from third-party learning management system (LMS) if drivers hit a certain threshold of events, such as for speeding or hard braking. The platform can also send out automatic reminders to drivers for expiring medical cards and other compliance tasks.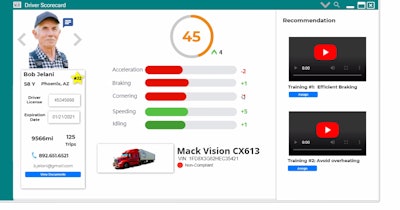 Additionally, if a driver is involved in an incident, the EOX platform has workflows to manage claims and put information together — including videos of the event — for legal protection, he said.
The benefits of system integration
One of the advantages of using systems that consolidate safety data from different sources is getting a bigger picture of driver performance by correlating different data sets.
EBE Technologies offers a driver safety management platform through InfoStream, an EBE company. Larry Kerr, president of EBE, said the company has recently been working with "a lot" of fleet customers who want to link information from their HR systems – specifically drivers' attendance records and time-off requests – with safety and performance data.
If a driver takes a day off without scheduling it in advance (or fails to show up for work), that record might have a correlation with poor driving behaviors captured by telematics systems in the form of hard breaking, swerving or speeding. Without having system integration, that correlation would go unrecognized.
[Related: EBE launches InfoStream regulator compliance service]
EBE has created system integrations between HR and dispatch software to correlate attendance with driver safety using a scorecard approach, Kerr said. The insights help fleets detect problems that drivers are having that need to be addressed immediately.

The EBE platform can assign workflows to all of the items in a driver scorecard. When drivers cross a threshold, the system can automatically send an adverse action letter to a driver's supervisor to sign, and then route the letter to the driver to sign. If the driver's behavior causes additional points for the same behavior, the software can escalate the situation for the safety team to make a termination decision, he said.
By using the same EBE platform, fleets can automatically assign points to a scorecard from camera systems and store event records in a driver's file, along with other data, to have one place for information.
Additionally, Kerr said that EBE is helping fleet customers with system integration to automate the process of paying drivers a bonus when they have clean roadside inspections. Likewise, the integration can automate the process of deducting fines from drivers' payroll or settlements when they have violations at roadside inspections.
If a driver has a violation that could have been prevented by reporting an item in a pre-trip inspection using a driver vehicle inspection report (DVIR), the EBE system can automatically send an electronic letter for payroll deduction for the driver to sign. Many fleets hold their drivers responsible for paying the fines of violations that should have been caught in the DVIR process, he said.
Jonathan Bates, executive vice president of marketing at MiX Telematics, has seen a consolidation trend coming in safety technologies. Telematics service providers, such as MiX, "are adapting to be more platforms-as-a-service as opposed to being single-source-SaaS," he said. "We need to integrate, filter, consolidate and present a uniform version of the truth through one pane of glass to fleets."
Telematics service providers are being asked to deliver a full menu of safety features that include driving behavior, dash cameras, apps for vehicle safety checks and driver engagement, as well as supervisor-to-driver reporting and supervisor-to-fleet executive reporting. "All of this has to be unified in one portal and one methodology. One provider may not do it all themselves but has to present it all themselves and be able to advise with authority," he added.
Overall the trend for technology is to bring safety data together from multiple sources to help motor carriers manage their risk in a more efficient manner and documenting these actions for legal protection.