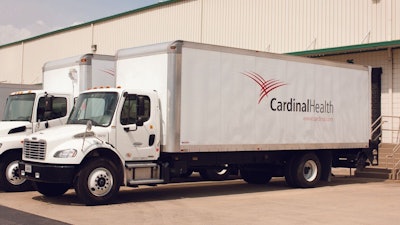 Trucking technology news and briefs for  the week of March 28, 2021: 
All supply chains have been disrupted by the events of the past year, but perhaps none as much as medical supplies. This has driven new business to providers of shipment visibility platforms.
During the early stages of the COVID-19 pandemic, Cardinal Health started using visibility technology from FourKites and recently decided to use FourKites as the central data hub of its next-generation "cognitive supply chain network."
Cardinal will use the visibility platform to track medical equipment, pharmaceutical products, first aid supplies and personal protective equipment (PPE) for more than 29,000 pharmacies and nearly 90% of American hospitals with which it does business.
With the new visibility technology, Cardinal has the ability to make necessary adjustments to "provide a frictionless experience to our customers everywhere and help them better serve their patients," said Sean Halligan, senior vice president of Pharmaceutical Operations at Cardinal Health.
Fleet insurtech chooses Netradyne
Traditional insurance companies have been cutting their losses and exiting the commercial auto market, creating room for insurtech firms to enter the market and bring new technology to fleets that also helps firms more accurately assess and manage risk.
[Related: Insurtech firms expand coverage, service offerings for fleets]
Netradyne announced that insurtech provider Aioi Nissay Dowa Insurance Services USA (Aioi USA) has decided to utilize its Driveri D-210 camera system. The dual camera D-210 is a vision-based safety platform that combines artificial intelligence with video, onboard sensors and edge computing to detect, reason and determine causality of events.
The initial deployments of D-210 units by Aioi USA are for a car-share fleet and a last-mile delivery fleet as part of the company's focus on developing risk management and data-driven insurance solutions for fleet applications.
"The ability of the Netradyne platform to capture many of the events we find most informative from a risk analytics perspective at a high-level of detail allows our data science work to deliver unique insights and critical information," said Craig Lozofsky, COO at Aioi USA.
Cranking up cell signals
All of the major cellular players will sunset 3G CDMA networks by the end of 2022. The trucking and logistics industry will soon have all vehicle and drivers using 4G LTE and 5G technology. 
Once faster speeds are the norm, having to revert to spotty network coverage will be a point of frustration for drivers and fleets alike. Cellular signal boosters are one option for maximizing connectivity.
Wilson Electronics recently launched a new in-vehicle cellular signal booster, Drive Reach OTR, that is compatible with all mobile phones and wireless carriers in North America.
[Related: Sunsetting of 3G networks makes 2021 a year of transition for fleets]
The product uses an exterior antenna that reaches out to cell phone towers to receive a signal. It transmits the signal to the Drive Reach OTR booster, which amplifies the signal for each of the supported frequency bands of devices in the vehicle, and also amplifies the signals of devices back to phone towers.