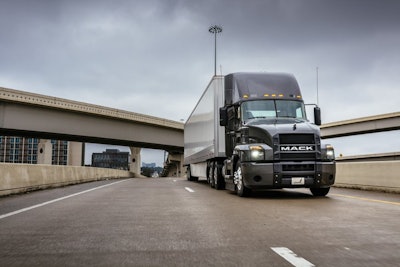 Mack Trucks announced Monday at National Private Truck Council (NPTC) Annual Management Conference and Exhibition in Cincinnati a new day cab roof fairing for its Anthem model.
Now available for order, Mack Highway Product Manager Stu Russoli said the the improved roof fairing design increases fuel efficiency by up to 2% when paired with side shields.
The taller profile of the roof fairing, Mack said, allows for better air flow over the trailer, reducing drag. The trim tab height is adjustable, accounting for chassis height, trailer height and the distance between the rear of the cab and front of the trailer. 
Mack Anthem day cab models can be SmartWay certified if spec'd with roof fairings and side shields, chassis fairing and an aerodynamic bumper option. In addition, low-rolling resistance SmartWay-certified tires are required. The Mack Anthem day cab also features the Mack mDRIVE 12-speed overdrive automated manual transmission.
Mack Anthem models also are equipped with Mack GuardDog Connect, Mack's integrated telematics solution, which monitors critical fault codes that could lead to unplanned downtime. GuardDog Connect also is the enabling technology for Mack Over The Air remote software and parameter updates. Mack Over The Air is now standard with driver download activation feature so customers can implement software updates themselves at their convenience.