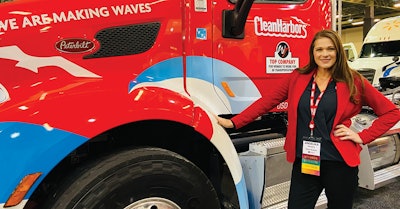 Women in Trucking
While survey results of female truckers can vary, a common concern raised by respondents focuses on safety and respect, though that concern can shift depending on the situation.
A recent survey published by JW Surety Bonds shows that 68% of female truckers feel safe when working compared to 78% of male drivers.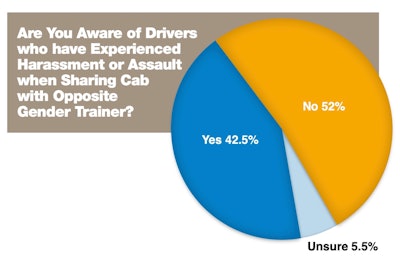 Though fewer women feel safe than men when working, that number changes drastically when women stop for sleep. The survey reveals that 89% of female drivers feel safe when sleeping in their truck compared to 11% who do not. That finding caught the attention of Madeline Weirman, reactive data lead at Fractl, the research team that conducted the study.
"If safety is a big concern for a woman considering getting into the trucking industry, hearing that so many women feel safe on the job must be a huge relief," Weirman said.
However as Max Farrell, CEO at WorkHound pointed out, the notion of safety can change yet again when women work directly with men, particularly during training.
"In the past we've seen feedback from women that were with a male trainer and they didn't feel safe," Farrell said. "And if you're with a trainer, you're with them every day. Very rarely do you have a space where you're separate. And so if you're feeling unsafe, it's very awkward to call and say, 'I don't feel safe'."
To help avoid uncomfortable situations, Farrell recommended that fleets form an effective "communication strategy with their workforce to have an ongoing dialogue that goes just 'Hey, good luck out there.'"
[Related: U.S. Xpress names Julie Van de Kamp president of dedicated]
A survey conducted by Women in Trucking shows that safety and home time tied as top concerns among female drivers.
While 55% of female respondents agreed or strongly agreed that trucking is a safe industry, less than 18% felt safe while working.
The survey goes on to point out that "that gender bias and harassment remains a significant concern for female drivers, that's deserving of all stakeholders' time and attention."
Download CCJ's 2022-2023 What Drivers Want survey results here.
Not one size fits all
Though female trucking leaders largely agree with survey results that point to a need for safer and more respectful working conditions, they don't always see eye-to-eye on all topics facing women who take on a career behind the wheel.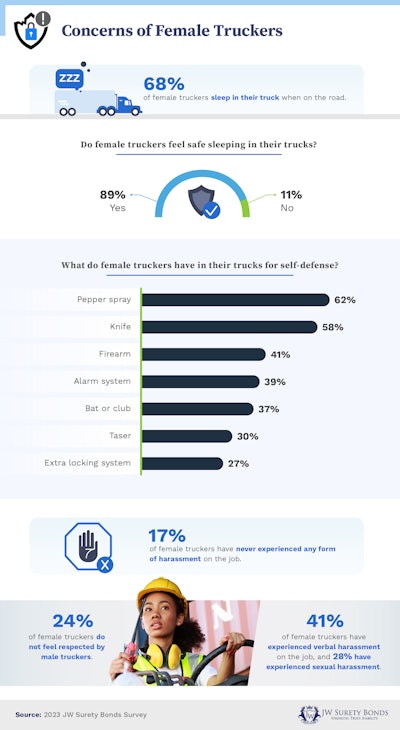 Women in Trucking founder Ellen Voie agreed with WorkHound's survey results suggesting that truck cabs could stand to undergo design changes to become more appealing to women.
Desiree Ann Wood, president of Real Women in Trucking, disagreed.
"Truck design is not an issue for women," said Wood, a professional truck driver. "This notion that we need 'lady trucks' to do this job is ridiculous. Women have been trucking since 1918 when commercial vehicles were first designed during World War I.
"We have women still driving today that have over 50 years in this industry who were driving before there was power steering or even bathrooms and showers for them to use," Wood continued. "One of our founders, Idella Hansen – who has 54 years of driving, and RWIT Board member Michelle Kitchin, who is just 5'3" and has been driving since 1988 – will tell you that many veteran women truck drivers take great offense at the notion that trucks are designed for male bodies and they need to be redesigned to accommodate females. The truth is, you can either do this job or you can't. Women are great at finding a way to get things done. That is not to say that the way truck design has naturally evolved isn't helpful and appreciated but to frame it as making trucks so women can drive them is highly offensive."
[Related: Cummins first female product engineer set to retire]
The topic of driver pay can also be divisive. WorkHound pointed to a Department of Labor survey published last year that found that male truck drivers make 1.3 times more money than women. Voie challenged that notion.
"I don't believe that men make more than women," Voie said. "An Omnitracs study found that women actually run more miles, which would imply they are making more money, unless they are working for a lower cents per mile because of longevity."
Wood, however, agreed with Department of Labor survey results on pay.
"Entry level driver training fleets generally have low pay across the board and pay according to experience level, but we find in experienced level fleets, often the women are being paid less and given the worst equipment over the men," Wood said.
"This is especially true in jobs out in the oil fields, construction, but also in small to mid-size fleets that have failed to 'evolve,'" Wood continued. "We get complaints from veteran women truck drivers that they were asked to train men who in a few short months were making more than them and driving the newest trucks. This doesn't make women leave the industry but it does often make them leave that company."
Following several years of anonymous driver surveys, Farrell has a positive outlook regarding fleet willingness to address concerns of female drivers. However, life on the road doesn't always play nice with fleet and driver expectations.
"I'm very optimistic about women in the industry," Farrell said. "That segment is increasing as far as the percentage of the total population of drivers out there. We're seeing really great numbers out there. Companies are making an active commitment but the company can only do so much. It's then all the variables out there like the truck stops, the rest stops, the locations where they're picking up or dropping off a load. Those are the other variables at play."