Log on to the all-new CCJDigital.com!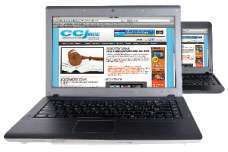 Get connected.
Stay informed.
Commercial Carrier Journal is proud to bring you CCJDigital.com, your source for breaking news, Web-exclusive editorial and multimedia content, new products, industry analysis from CCJ's editors and much more.
With new features like online polls, forums, article comments and sharing among others, CCJDigital.com allows you to engage other trucking industry professionals in ways you couldn't before and discuss the issues and topics affecting fleet companies across the country. Subscriptions to daily and weekly newsletters are just a few mouse clicks away, and you can use the RSS feeder to tailor news feeds and stay up-to-date on topics that interest you.
Sound off
"Every profession in the world has a break in the middle of the work day. Why is it that in the trucking profession that if we want to maximize our mileage we are forced to drive? If we were allowed to take breaks during rush hour and weather-related events, that would make for safer roads and safer drivers."—an online reader's comment on CCJDigital.com in response to the news article, "ATA: Current HOS rules are working, but need more flexibility"
CCJ Webinars
CCJ Innovators: Pushing the envelope
Thursday, March 25, 3-4 pm ET
Join in the conversation as trucking companies recently featured in CCJ's Innovators Program share their ideas and best practices that keep them at the forefront of the transportation industry. This is your chance to ask questions and learn how you can apply these innovations in your fleet operation.
And check out our archive of past webinars available for replay at www.ccjwebinars.com:
• The Latest on California's Regulations
• Working with Brokers
• The Outlook for Trucking
• Leveraging Shop Technology
• Managing Risk: Indemnity & Insurance
• Current Outlook for Trucking and the Economy
• FMCSA's New Maximum Fines Policy
• Surviving the Recession
• Update on 2010 Engines
• A Look At 2009
• The Future of Safety Oversight
• Impact of California on Trucking Operations
• Fleet Strategies for Saving Fuel
• The Outlook for Trucking
• Avoiding the Dirty Dozen
• Going Green, Saving Green
Linked in
Connect with CCJ on Linkedin and Facebook today
Enter "CCJ" in the search field, join the group/become a fan and stay up-to-date with what's going on with the magazine and network with other members.

Commercial Carrier University
Live workshops and written materials to help fleet executives manage their operations better.
For more information, go to