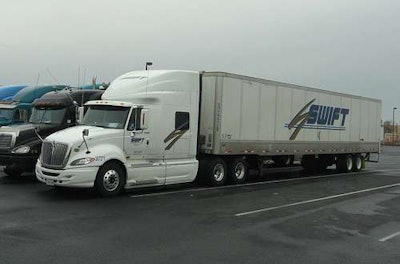 Swift Corporation announced that its wholly-owned subsidiary, Swift Holdings Corp., has filed a registration statement on Form S-1 with the Securities and Exchange Commission relating to a proposed initial public offering of its common stock. Immediately prior to the consummation of this offering, Swift Corporation will merge with and into Swift Holdings Corp., with Swift Holdings Corp. surviving.
Swift, based in Phoenix, expects to use the net proceeds of the offering to repay a portion of its existing senior secured credit facility and for general corporate purposes, but says the number of shares to be offered and the price range for the offering have not yet been determined.
Saint Corp., a corporation formed by Jerry Moyes, founder and former chairman of the board and chief executive officer of Swift Transportation, successfully acquired Swift in May 2007. Saint acquired all of the outstanding shares of Swift common stock for $31.55 per share in cash, including the assumption of about $332 million of net debt, valuing the all-cash transaction at about $2.6 billion, or about $3.6 billion counting the Moyes family's rollover of their Swift investment and their contribution of Interstate Equipment Leasing.