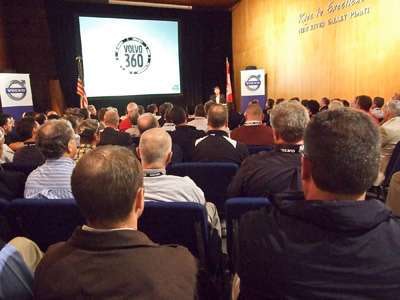 Fuel efficiency, productivity and profitability are hot topics for fleet customers – putting Volvo's U.S. Environmental Protection Agency-compliant 2010 engines in the spotlight at a Volvo Trucks 360 event held last week in Dublin, Va. More than 100 participants from across the United States and Canada attended the event, held at the Volvo Trucks New River Valley assembly plant and designed to give customers insight into current Volvo technologies and operations.
"Our 360 event gives us the chance to listen to customers, answer their questions and show what we are doing with our EPA10 engines, as well as with other technologies and business solutions," says Ron Huibers, senior vice president of sales and marketing for Volvo Trucks North America. "As we focused on efficiency, productivity and profitability, it became clear that Volvo's EPA10 engines in particular are generating tremendous interest within the industry."
The marketplace has had a year to get familiar with the Volvo EPA10 engines, and the early adopters have become fans, Huibers says. "The Volvo EPA10 solution meets the most stringent emissions standard in the world. Just as importantly, our engines are meeting and exceeding the customer expectations, particularly when it comes to fuel efficiency and performance."
Volvo's EPA10 engines with selective catalytic reduction are built to deliver near-zero emissions and provide up to a 5 percent fuel efficiency improvement over EPA 2007 engines. The company says it began filling orders last fall, and as of July, orders for Class 8 trucks equipped with EPA10-certified Volvo Group engines – which include the Volvo D11, D13 and D16 –surpassed the 10,000 mark. According to the company, order intake since has continued to be strong, in line with high customer demand.
"What we're hearing from the industry is that Volvo has the best solution for 2010," says Patrick Collignon, plant manager for Volvo Trucks' New River Valley facility. "That buzz is translating into orders."
Participants in the Volvo 360 event were able to tour the New River Valley plant, get a behind-the-scenes look at the production processes being employed there, and see how the Volvo EPA10 engines are integrated into the design and operation of the company's trucks.
During ride-and-drive sessions as well as breakout groups, participants also had opportunities to learn about other Volvo technologies and services designed to improve productivity and safety, including the Volvo I-Shift transmission, a 12-speed two-pedal automated transmission that integrates with all Volvo engines. Using microprocessors, it continuously monitors changes in grade, vehicle speed, acceleration, torque demand, weight and air resistance, the company says; with the engine and transmission in constant communication, I-Shift automatically selects the best gear.
"I-Shift allows every driver to be a fuel-efficiency expert, reducing cost and putting less stress on the driveline," Huibers says. "When I-Shift is combined with Volvo's new EPA10 engines, customers are seeing even more significant fuel savings. Volvo Trucks continues to bring unmatched value to our fleets and drivers. From boosting fuel economy to enhancing productivity to generating savings, our customers came away with a clear picture of how Volvo adds significant value to their businesses."