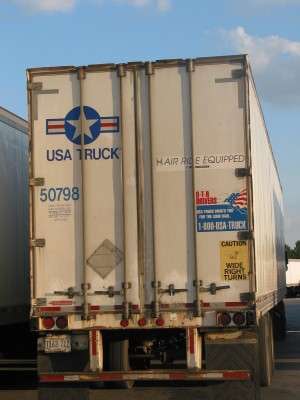 Knight Transportation (No. 25 on the Top 250) announced this week it has ended its pursuit to buy USA Truck (No. 44 on the CCJ Top 250) as part of a settlement reached between the two parties in a lawsuit filed by USA Truck in October to end Knight's attempt to acquire the Arkansas-based carrier.
USA Truck's board unanimously rejected Knight's $9 per share bid in September, and Knight subsequently announced it had upped its ownership of outstanding USA Truck shares from 8 percent to 11.3 percent.
USA Truck then sued, asking the court to halt Knight's bid for the company, claiming it was using confidential information to sway the carrier to sell.
Knight said in its Feb. 4 announcement that the lawsuit, per the settlement, will be dismissed and Knight has entered into a standstill and voting agreement effective until Sept. 30, meaning the company will not "acquire any securities or assestts of USA Truck, propose any tender or exchange offer to acquire USA Truck securities or any consent solicitation or seek representation on the Board of Directors," according to an announcement from USA Truck.
"Our agreement with USA Truck represents a positive outcome for our company, as it resolves all related litigation while preserving our flexibility with respect to our investment," said Kevin Knight, chairman and Chief Executive Officer of Knight. "Knight Transportation may continue to own shares in USA Truck and, subject to the terms of the agreement, may consider its options in the future regarding that investment."
USA Truck released this statement:
We are pleased that the parties have reached a settlement. USA Truck's management team and employees have been focused on executing plans to restore the Company's profitability and unlock its earnings leverage potential through improved operational excellence, profitable revenue growth and cost effectiveness. Nevertheless, by eliminating any of the distractions that have been created by this litigation, the settlement is a positive outcome for USA Truck's employees, customers and shareholders."