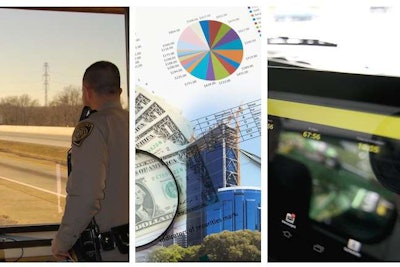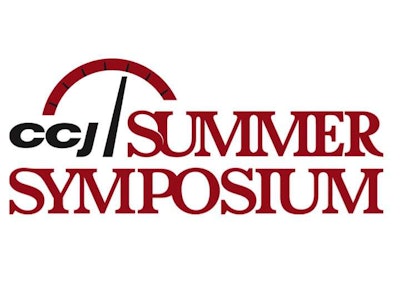 The 2014 CCJ Summer Symposium last week in La Jolla, Calif., provided attendees with insight into the trucking industry for the coming months and years. The event included keynote addresses by political commentator Ben Stein, as well as sessions on electronic logs, Compliance Safety Accountability changes, driver recruiting and retention and the trucking economy outlook. Of course we covered all the sessions online, but in case you missed it, here's a recap of some of the symposium highlights. (Want to experience a CCJ Symposium in person? Click here to register for the CCJ Fall Symposium.)
Industry consultant Jeff Davis, principal officer for Fleet Safety Services, warns symposium attendees that a wave of changes and add-ons to the Federal Motor Carrier Safety Administration's Compliance Safety Accountability program is creating "regulation fatigue" for fleet executives and truck operators.
Donald Brougton, managing partner of Avondale Partners, shares his outlook for the trucking industry over the next three years. He told attendees that for the first time in 28 years the number of bankruptcies in the trucking industry increased as diesel prices remained steady, and that the adoption of electronic logging devices ahead of the looming ELD mandate could lead to even more bankruptcies in the coming months and years.
Fleet executives from Swift Transportation, Con-Way and John Christner Trucking discussed their challenges and successes with the implementation of electronic logging devices in their respective fleets. Training and equipment installation were two hurdles the fleets worked to overcome, but once fully implemented, ELDs led to productivity gains as fleet managers are better able to utilize assets.
Phil Byrd, 2013-2014 chairman of the American Trucking Associations and president and CEO of Charleston, S.C.-based Bulldog Hiway Express, gave a stirring luncheon speech on the challenges that the industry has faced during his tenure at ATA and some of the association's successes in challenging various regulatory efforts that would negatively impact the trucking industry.
Fleet executives from Mountain Valley Express and C.R. England and the National Transportation Institute's Gordon Klemp talked about driver pay trends and new payment structures and strategies they use in their operations to improve recruiting the right type of drivers and increase retention rates once new drivers come on board with their companies.