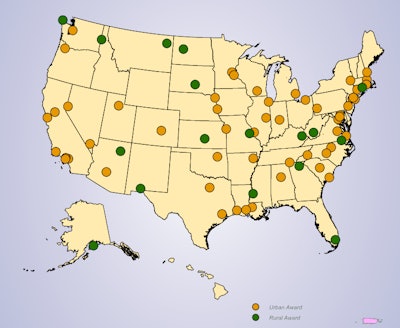 The U.S. Department of Transportation will provide $584.1 million for 72 transportation projects in 46 states and the District of Columbia from its TIGER (Transportation Investment Generating Economic Recovery) 2014 program, the department announced Friday.
Road projects will receive 38 percent of the funding while 27 percent goes to transit.
DOT reported 797 eligible applications from 49 states, U.S. territories and the District of Columbia, an increase from the 585 applications received in 2013.
Overall, applicants requested 15 times the $600 million available for the program, or $9 billion for needed transportation projects.
"As uncertainty about the future of long-term federal funding continues, this round of TIGER will be a shot in the arm for these innovative, job-creating and quality of life-enhancing projects," says Transportation Secretary Anthony Foxx.
The top 3 awards are:
$25 million for the Vision Zero project, New York City's multi-agency plan to reduce traffic-related deaths and injuries by redesigning intersections near schools, creating safer pedestrian access to transit and fill a major gap in the city's protected bicycle lane network that will connect lower-income communities to industrial zones
$25 million to replace the Sarah Mildred Long Bridge, a joint Maine-New Hampshire project, with TIGER to fund the rail portion.
$24.9 million for the construction of a 7.6 mile bus rapid transit line in Richmond, Va., that will connect transit-dependent residents to jobs and retail centers as well as spur mixed use and transit-oriented development in a city with the highest poverty rate in Virginia.
DOT's complete list of the TIGER awards, sorted by state, is here.
Since 2009, the TIGER program has provided nearly $4.1 billion to 342 projects in all 50 states, the District of Columbia and Puerto Rico.
TIGER funding is provided by Congress through annual appropriations. The 2014 fiscal year runs out at the end of the month, and Congress has yet to fund DOT for 2015.