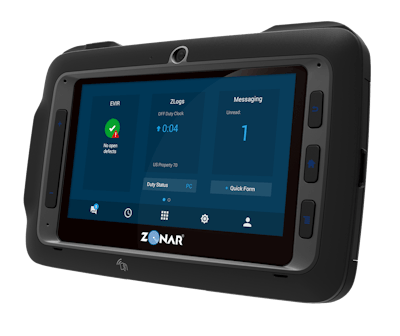 Zonar introduced its next-generation tablet, Zonar Connect, which it says is faster, more responsive and more customizable compared to previous-generation units. The ruggedized tablet also provides fleet managers with a suite of tools to manage compliance, safety and efficiency monitoring.
Built on the Android mobile operating system, Connect features 2gb of memory, 32gb of storage, a quad-core 1GHz processor and a host of connectivity options including Bluetooth, Wi-Fi, LTE cellular, near field communication and RFID. Battery performance is 10 days of standby and three hours of continual use. The Connect tablet charges in its cradle in the cab.
Connect is connected even when outside of the cab, allowing the driver to submit completed documents and EVIR inspections back to dispatch without returning to the cab of the truck. It also connects vehicles, drivers and fleet managers with critical information such as vehicle health, efficiency, driver hours of service, performance, data capture, compliance, safety and asset utilization.
"Just as smartphones have become an integral part of our daily lives, you soon won't be able to run your fleet operations efficiently without a smart fleet technology like Connect," said Brett Brinton, Zonar co-founder and CEO, during a press conference at the 2016 American Trucking Association's Management Conference & Exhibition in Las Vegas. "Connect will help operators manage their fleets more effectively as technology changes with hardware that supports over-the-air updates to give them greater flexibility and scalability to grow."
The Connect tablet is compliant with current hours-of-service regulations and is ELD mandate-ready, meaning Zonar can update the tablet software over the air when the regulation takes effect at the end of 2017. It also integrates with Zonar's Ground Traffic Control, allowing fleets better visibility of assets on the road.