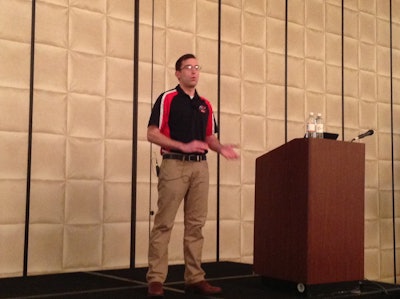 Omnitracs, a pioneer of fleet management systems to transportation and logistics companies, announced the breakout sessions for its third annual user conference, Omnitracs Outlook 2017, which will take place Feb. 26-March 1, 2017, at the Sheraton Grand Phoenix in Phoenix, Arizona.
The line-up of speakers and sessions can be viewed at https://omnitracs2017.smarteventscloud.com/connect/, with more speakers and details to come.
Key areas of focus for 2017 include regulatory compliance and preparation for the ELD mandate, as well as a new, hands-on product training track, as requested by customers.
"In putting together our line-up for Omnitracs Outlook 2017, we've talked to our customers about their questions and concerns about emerging trends and compliance issues," said Jeff Champa, vice president of product management at Omnitracs. "We're pleased to provide a comprehensive program that touches many of the big issues facing customers today, as well as specialized sessions that focus on the unique challenges facing owner-operators, private fleets and short-haul companies."
The curriculum for Omnitracs Outlook 2017 will be focused around the following topics:
Compliance: A panel of top carriers will discuss migration strategies, small carrier compliance, Canadian ELD updates, and an open forum for questions and discussion.
Data & Analytics: Attendees will discover the power of predictive analytics and how to transform data through customized models, enabling data-driven decision-making.
Productivity: Best practices and emerging technologies to positively impact driver and asset management, cost reduction strategies, and customer service.
Planning & Delivery: Leveraging data to optimize routes, minimize downtime and automate repetitive tasks for drivers.
Safety & Security: Industry and security experts will discuss how to protect against costly litigation, cyberattacks and revenue loss, in addition to proactive ways to coach drivers to adhere to high safety standards.
Training: A hands-on track will provide real world tips and tricks for getting the most out of an Omnitracs product investment, with sessions dedicated to Omnitracs Enterprise Services, Omnitracs Roadnet, and Omnitracs XRS product lines.