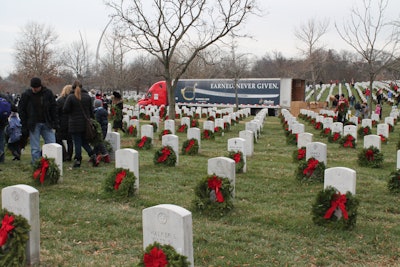 Omnitracs, LLC, a provider of fleet management systems to transportation and logistics companies, announced that for the seventh consecutive year it has donated $25,000 for the purchase of 2,500 wreaths to be laid on the graves of veterans. To date, Omnitracs has donated $175,000 toward the cause.
National Wreaths Across America Day will take place Saturday, Dec. 17, during which wreath laying ceremonies will be held at military cemeteries across the country to honor those who have served. In addition to the purchase of wreaths, Omnitracs employees will participate in the wreath laying at the following locations:
Dallas-Fort Worth National Cemetery in Dallas, Texas
Arlington National Cemetery in Arlington, Virginia
Fort Snelling National Cemetery in Minneapolis, Minnesota
Miramar National Cemetery in San Diego, California
Fort Rosecrans National Cemetery in San Diego, California
Omnitracs' support of Wreaths Across America is part of the company's philanthropic program Omnitracs Gives Back, which is committed to supporting the needs of the community.
"Our involvement in Wreaths Across America has grown over the years and it's an organization we're proud to be able to support," said John Graham, a Navy veteran and CEO at Omnitracs. "We're committed not only to honoring veterans through recognition and remembrance, but also to helping veterans find success and a career when they return home."
The Wreaths Across America program receives significant support from the trucking and transportation industry.
"C.R. England has been pleased to be a part of Wreaths Across America for eight consecutive years," said Dan England, chairman of the board for C.R. England, an Omnitracs customer. "We are honored to be part of the significant convoy that transports these holiday wreaths and will honor the members of our military who have given the ultimate sacrifice. Our drivers and support staff are proud to play a role in recognizing the many who have fallen in defense of our freedoms."
On National Wreaths Across America Day, more than 300 trucks are packed with wreaths coming from Harrington, Maine to be delivered to over 1,000 participating cemeteries. Carrying roughly 5,000 wreaths per truck, it takes 60 trucks to deliver enough wreaths for Arlington National Cemetery, and the drive from Maine to Virginia is considered the world's largest veterans' parade.