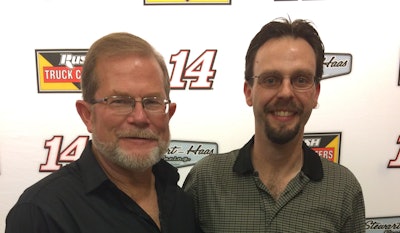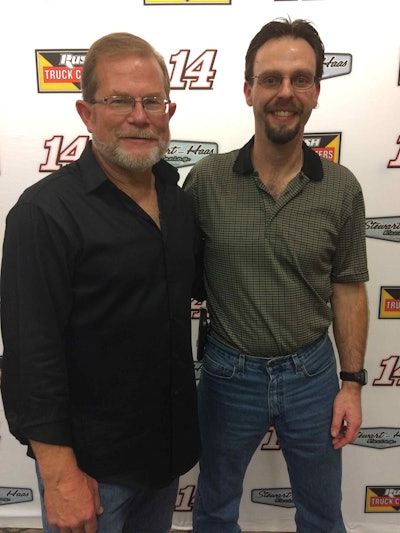 Lucas Manlief of Indianapolis, Ind., was named the overall winner at the 11th annual Rush Tech Rodeo on Tuesday night.
"It is just surreal right now," Manlief said just minutes after being named the competition's winner. He competed in the Medium-Duty International competition on Monday and Tuesday.
But, becoming a service tech was not a life-long plan. "I just kind of fell into it," Manlief says. "I was actually a driver and then just fell into this."
Manlief says it's a decision that he never looks back on. "I love it," he says. "I love repairing trucks and getting them back out on the road."
Rush Enterprises CEO Rusty Rush commended all 165 techs who competed in the two-day event, crediting them with being the "heartbeat of the company."
Listed below are the winners and prize amounts awarded in each category.
Parts
Ford
First place: Ron Hall, Rush Truck Center – Dallas Light- and Medium-Duty ($2,750 cash and prizes)
Hino
First place: Aaron Van Straten, Rush Truck Center – Sealy ($2,750)
Isuzu
First place: John O'Brien, Rush Truck Center – Orlando South (($2,750)
International
First Place: Alejandro Gonzalez, Rush Truck Center – Atlanta ($2,750)
Peterbilt
First Place: Randy Brehm, Rush Truck Center – San Antonio ($2,750)
Rising Star
Third place: Thomas Powell, Rush Truck Center – Austin ($3,800)
Second place: Nathaniel Walder, Rush Truck Center – Dayton ($6,300)
First place: John Malone, Rush Truck Center – Lake City ($6,700)
Vocational
Second place: Marc Hurley, Rush Truck Center – Denver ($3,325)
First place: Carl Trevino, Rush Truck Center – Houston Medium-Duty ($5,200)
Bus
Second place: William Loving, Rush Truck Center – Gainesville ($3,200)
First place: Shane Myers, Rush Truck Center – Springfield OH (($5,200)
Body Repair
Second place: Marcos Silva, Rush Truck Center – San Antonio ($3,400)
First place: Ryan Dugat, Rush Truck Center – Lufkin (($5,200)
Body Paint
Second place: Daniel Skiles, Rush Truck Center – Denver ($3,400)
First place: Shawn Hengstebeck, Rush Truck Center – Fontana Collision Center ($5,100)
Medium-Duty
Hino
Second place: Steven Brain, Rush Truck Center – Dallas Medium-Duty ($3,000)
First place: Matthew Pogue, Rush Truck Center – San Antonio ($4,000)
Isuzu
Second place: Chris Williams, Rush Truck Center – Denver ($3,000)
First place: Rick Nonamaker Rush Truck Center – Waco ($4,000)
International
Second place: Eric Custead, Rush Truck Center –  Hickory ($3,000)
First place: Lucas Manlief, Rush Truck Center – Indianapolis ($4,000)
Peterbilt
Second place: Dustin Ebert, Rush Truck Center – Phoenix ($3,000)
First place: Travis Graham, Rush Truck Center – Orlando ($4,000)
Heavy Duty
Alternative Fuels
Second place: Joe Ulakovic, Rush Truck Center – Dallas ($4,000)
First place: Will Young, Rush Truck Center – Oklahoma City ($5,000)
Cummins
Third place: Matthew Chilson, Rush Truck Center – Houston ($3,000)
Second place: Nicholas Misch, Rush Truck Center – San Antonio ($4,000)
First place: Christopher Jordan, Rush Truck Center – Carol Stream ($5,000)
Eaton
Third place: Brian Noska, Rush Truck Center – Sealy ($3,000)
Second place: Jason Swann, Rush Truck Center – Dallas ($4,000)
First place: Paul Serr, Rush Truck Center – Denver ($,5000)
Navistar Engine
Third place: Derik Frazier, Rush Truck Center – Cincinnati ($3,000
Second place: Brandon Sloan, Rush Truck Center – Salt Lake City ($4,000)
First place: Michael Denero, Rush Truck Center – Charlotte ($5,000)
PACCAR MX
Third place: Erick Lincoln, Rush Truck Center – Albuquerque ($3,000)
Second place: Mark Craver, Rush Truck Center – Mobile ($4,000)
First place: Glenn Boothe, Rush Truck Center – Nashville ($5,000)
Reserve Champions
Parts: Ron Hall, Rush Truck Center – Dallas Light- and Medium-Duty (Total winnings $6,150)
Medium-Duty: Dustin Ebert, Rush Truck Center – Phoenix (total winnings $8,500)
Heavy-Duty: Jason Swann, Rush Truck Center – Dallas (total winnings $9,500)