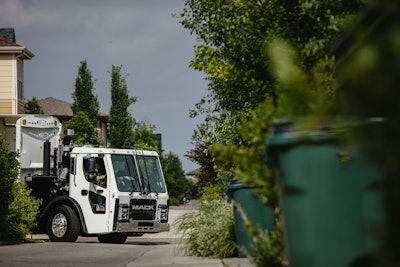 Mack Trucks' LR model is now available in a 4×2 configuration the company announced at WasteExpo in New Orleans Tuesday.
Initially available as a 6×4 only, Mack Refuse Product Manager Curtis Dorwart says some customers needed improved maneuverability offered by the 4×2 configuration.
With a shorter wheelbase and tighter turning radius, the 4×2 LR model can fit into alleys and other small spaces. The 4×2 LR model is also lighter than its 6×4 counterpart, improving handling.
Launched in 2015, the Mack LR model was engineered to meet the specific challenges of the refuse application. Customer input was incorporated into the cab design to deliver improved productivity through superior driver comfort, safety and visibility.
The cab's enhanced driver environment includes power windows and power door locks, memory mirrors, in-dash air-conditioning, standard in-cab LED lighting and an instrument cluster with color LCD display. HVAC and radio controls are centrally-mounted and accessible from both driving positions. A tilt and telescoping steering column is also standard and features steering column-mounted main gauge pods for both the right-hand and left-hand driving positions to enhance gauge visibility and improve ergonomics.
The LR model was also designed with expansive front glass to provide unparalleled visibility. Wrap-around rear cab corner windows we also added to improve visibility and safety.
A new center storage space for lunch coolers, two-liter bottles, beverage cups, mobile phones and MP3 players was added, as was a rear-wall unit that offers two additional levels of storage.
All LR models are powered by Mack's 11-liter MP7 diesel engine with up to 355 horsepower and 1,260 lb.-ft. of torque. The Cummins Westport ISL G natural gas engine is optional. LR models are equipped with an Allison RDS five-speed or six-speed automatic transmission.
Also Tuesday, Mack says Over The Air (OTA) will be available on refuse vehicles including the Mack 2018 Granite, TerraPro and LR models equipped with Mack 2017 GHG engines. Mack OTA allows customers to update software without disrupting their schedules, improving efficiency and increasing uptime.
Mack OTA will be available on 2018 Mack LR models equipped with a Mack engine with the availability of GuardDog Connect beginning in Q3 2017. Mack OTA for the TerraPro and Granite models is also planned for later in 2017.
Software updates for powertrain components and for vehicle parameters like road speed limits are available through Mack OTA.
Mack OTA capitalizes on fully integrated Mack GuardDog Connect telematics hardware to deliver the software updates directly to customers with minimal interruption to their operations.
GuardDog Connect comes standard on every Mack model equipped with a Mack engine and provides proactive monitoring and repair planning, enabling real-time diagnosis of issues, scheduling of repairs and confirmation that needed parts are in stock and ready to install. Combined with Mack ASIST and Mack's live OneCall uptime agents, GuardDog Connect delivers the right mix of people and technology to provide decision-critical information to maximize customer uptime.
Mack's uptime functions are based at the Mack Uptime Center, a 123,000 square-foot facility that houses personnel from every customer support function. Through the latest telematics, communications and case management tools, the Uptime Center allows Mack uptime agents to work through cross-functional teams and address customer needs quickly and efficiently.