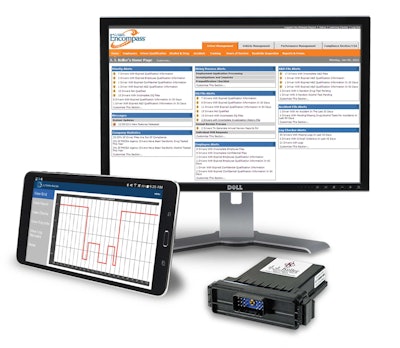 J. J. Keller announced the placement of its J. J. Keller Mobile ELog application for Android devices and the J. J. Keller Compliance Tablet on the FMCSA ELD registry.
According to the mandate, any electronic logging device placed into service as of December 18, 2017 must be self-certified and registered with the FMCSA. The self-certification process confirms the ELD and associated system is able to accurately capture and store a driver's hours of service, and make this information usable to enforcement personnel during roadside inspections and audits.
"Choosing an ELD provider is an important decision for any carrier," said Rustin Keller, executive vice president and chief operating officer for J. J. Keller & Associates, Inc. "The J. J. Keller ELog system delivers a compliant solution that meets FMCSA's technical requirements while offering the operational flexibility to help carriers maximize driver hours in compliance with complex Hours of Service regulations."
Keller said that customers using its current product do not need a hardware upgrade to meet the ELD mandate and the company plans to release additional certifications for iPhone and iPad devices.
Beyond meeting the technical specifications of the final rule, the J. J. Keller Encompass fleet management system with ELogs offers over-the-air updates and is compatible with all vehicle classes and most smart devices, includes multiple hours of service rule sets. Full driver and vehicle performance management applications are also available.