CCJ's Indicators rounds up the latest reports on trucking business indicators on rates, freight, equipment, the economy and more.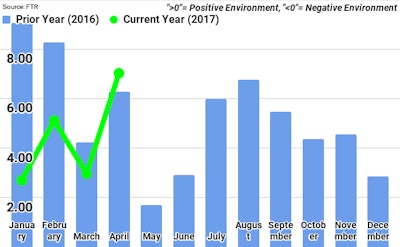 Following a boost in April from March, the Trucking Conditions Index in May remained nearly unchanged from the month prior. The monthly report from firm FTR measures market conditions for motor carriers, leaning on freight movement and rate data.
FTR notes the spot market has seen strong freight volume in recent months, and spot market rates have followed suit, climbing for most of the year. Rates on the contract market, however, "are still weak," says FTR. That could soon change, though, says FTR COO Jonathan Starks.
"It is becoming increasingly clear that the weak pricing in the contract segment cannot be sustained for much longer," Starks says. "In reviewing data from the publicly-traded carriers' first quarter reports, we have seen that there was no notable reduction in the carriers' underlying costs. That means that rate increases will need to be forthcoming or margin compression will quickly impact their bottom line. The wildcard continues to be the ELD implementation at the end of this year. Capacity has already tightened, and the market will tighten further as full ELD implementation occurs."