CCJ's Indicators rounds up the latest reports on trucking business indicators on rates, freight, equipment, the economy and more.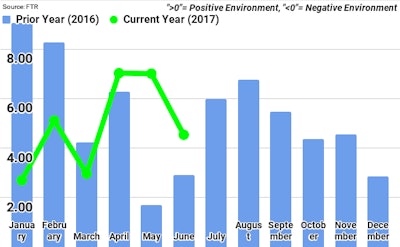 Market conditions for carriers dip: Market conditions for trucking fleets, as measured by FTR's monthly Trucking Conditions Index, worsened in June, FTR reported this week. The dip is due in part, says FTR, to increased costs of labor, fuel and purchased transportation incurred by carriers this year.
The capacity restrictions expected from the looming electronic logging device mandate "is now seen as likely shorter than expected," says FTR. The firm predicts a favorable freight forecast for the rest of the year. However, FTR forecasters expect growth to slow in 2018 and see an increased risk of a recession by the end of next year.
"Despite the monthly drop from May to June, the [index] has stayed in a relatively stable range since this time last year," says FTR Chief Operating Officer Jonathan Starks. "It remains positive, but does not yet indicate that a significant change in operations is occurring. The potential for such a change increases as we move through 2018."
"The recent strong increases in spot market rates bears a close watch, as it is an early indicator as to how rates in the much bigger contract arena are likely to move," he adds. "Spot data in early August shows that the rate increases have hit the double-digit mark and are still moving up. Market participants need to continue evaluating conditions ahead of the ELD implementation in December to make sure that they are prepared for the possible disruptions that could occur."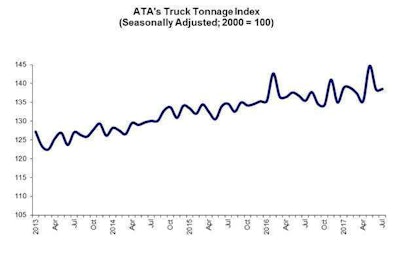 Tonnage flat in July: The amount of freight moved in July, as measured by the American Trucking Associations' monthly For-Hire Truck Tonnage Index, grew a tenth of a percent, ATA reported this week.
The small gain follows a 4.4 percent drop in June from May.
Compared to the same month last year, tonnage was up 2.3 percent. Year-to-date, tonnage was up 1.2 percent through the first seven months of the year.
"July's small increase in truck tonnage fits with other mixed economic indicators," said ATA Chief Economist Bob Costello. "Retail sales surprised to the upside, but manufacturing production and housing starts were down, so combined those likely caused a rather flat month in July for truck tonnage.
"With better economic growth in the second half of 2017, expect truck tonnage to continue increasing at a moderate pace on a year-over-year basis," he said.