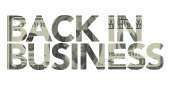 Editor's note: This is the third of three articles looking at Commercial Carrier Journal's 2018 Economic Outlook Survey, which includes responses from 431 fleet representatives about their top concerns and outlook for 2018.
For-hire fleets ready to grow
Bolstered by improving business conditions, the majority of trucking companies plan to increase fleet size this year.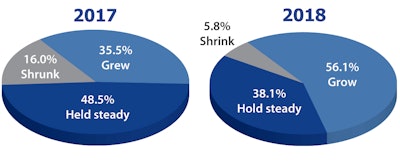 The 2006 pre-buy phenomenon notwithstanding, truck purchasing is a good barometer of fleet sentiment and the industry's overall health. If recent order intakes hold steady, 2018 will indeed be a great year.
According to FTR, preliminary North American Class 8 truck orders began to creep upward from a 2017-low 16,419 trucks in May before jumping to an average of 34,909 trucks in the last three months of the year. In January 2018, truck orders eclipsed 47,000 units, a 116 percent increase from January 2017 and the highest monthly order total since early 2006.
"These levels were well above our already strong expectations and continue to indicate the equipment markets are still reacting to the tight capacity in the truck marketplace," said Starks, adding that these levels aren't sustainable but should remain high at least through the first half of this year.
Survey responses to changes in fleet size mirror the growth in truck orders. While only 35.5 percent of respondents said they added trucks in 2017, 56.1 percent plan to increase their truck counts this year. On the flip side, 16.0 percent said their fleet size shrunk last year, but only 5.8 percent expect it to shrink in 2018.
Trump's impact on trucking
Trucking companies were mostly positive on the Trump administration's policy and its impact on business conditions in 2017 and expect policy to help business conditions this year.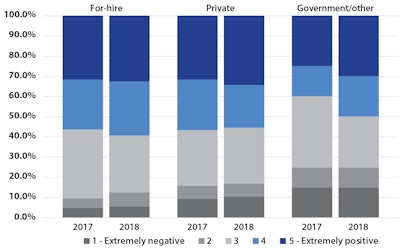 Carrier aspirations to grow likely will remain hampered by the current driver shortage, which reached critical levels in the second half of 2017. According to the "Truck Driver Shortage Analysis" report from the American Trucking Associations, the shortage was expected to reach 50,000 by the end of last year and could reach 174,000 by 2026.
Not surprisingly, driver availability overwhelmingly was the top concern for 66.4 of all respondents in CCJ's survey, up from 46.0 percent in last year's survey and 44.7 percent in 2016. Responses indicate larger fleets are more affected by the driver shortage, with 74.0 percent of respondents with more than 100 power units rating it their top concern compared to 60.0 percent of those with 10 to 100 power units.
Broken down by carrier type, driver availability is the top concern for 71.3 percent of for-hire carrier respondents, 51.3 percent of private fleet respondents and 40.0 percent of government and other fleet types.
"While the shortage is a persistent issue in our industry, motor carriers are constantly working to address it," said Bob Costello, ATA chief economist and author of ATA's report.
Recent carrier announcements of driver pay hikes – particularly by larger fleets – have become the norm as trucking companies try to remain competitive with other industries. In addition to hefty sign-on bonuses, starting pay for inexperienced drivers at truckload carriers can be 45 cents per mile or more, once considered the upper end of the pay scale for the safest, most experienced and most efficient drivers five years ago.
Driver pay leads the way as the expense item expected to increase the most in 2018 for 38.1 percent of all respondents, including 45.4 percent of those with more than 100 power units and 31.9 percent of those with 10 to 100 power units.
"Drivers have been leaving the field and finding other jobs that pay just as much or more, and they are home every night," said one CCJ survey respondent from a for-hire carrier with 10 to 100 power units. "This problem is fixable, but it will take years to correct."
Beyond raising driver pay, Costello said fleets can pursue other ways to attract and retain drivers, including improving driver lifestyles and promoting a positive image for trucking.
"There are also policy changes, like reducing the driver age as part of a graduated licensing system, or easing the transition for returning veterans, that can make getting into this industry easier and therefore help with the shortage," he said.