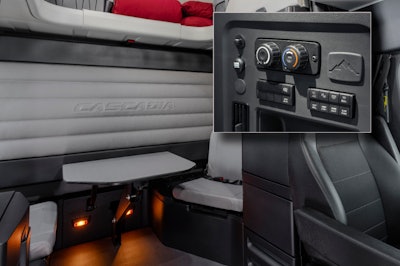 Freightliner is making available a new battery powered HVAC system as a factory-installed option on Cascadia truck models in all sleeper sizes and bunk styles. The system provides up to 10 hours of cooling or 34 hours of heating to the cab when parked, the truck maker says.
The new HVAC system, which replaces the previously offered ParkSmart system, reduces emissions by eliminating idling the engine. Increased airflow from a floor outlet further improves driver comfort, and the system is integrated with the truck's optimized idle feature for comfort in any extreme climate.
Kelly Gedert, director of product marketing for Freightliner Trucks and Detroit Components, says the battery powered HVAC system "contributes to creating that ideal interior environment for the driver."
All system components are serviceable, and most can be reached without removing the cabinet where it is housed. For 60" and 72" sleepers, the new solid state electrical center of the Battery Powered HVAC system fits completely underneath the cab's wardrobe cabinet, freeing up space in the baggage compartment.
The battery powered HVAC system has a dual evaporator design and the compressor only runs in parked mode. The system is fully integrated with vehicle power management to preserve engine starting.