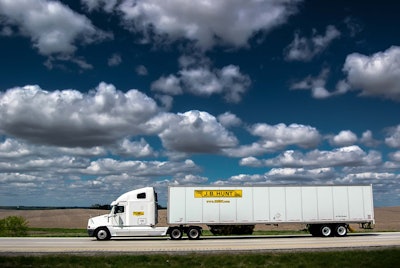 J.B. Hunt Transport Services, one of the largest supply chain solutions providers in North America, plans to integrate a visibility platform from project 44 (p44) into J.B. Hunt 360 to provide its customers with real-time access to shipment information regardless of carrier, eliminating the need for multiple carrier data integrations.
J.B. Hunt 360 provides businesses and carriers with the opportunity to engage in a marketplace for freight matching, gain visibility into their operations within the supply chain, and access features that automate day-to-day efforts.
"The challenges our customers are facing today require greater visibility into their transportation network," said Shelley Simpson, executive vice president and chief commercial officer of J.B. Hunt. "By integrating project44 technology within J.B. Hunt 360, customers can view and manage multi-carrier freight from a single platform, helping them streamline operations and meet their supply chain goals."
The addition of project44's technology to J.B. Hunt 360 will further the platform's ability to generate cost savings, increase efficiency, and improve service levels, the company says.
project44 has connections to thousands of global multimodal carriers and ELD/telematics devices. Its one-to-many model delivers access to data in real time and provides users with insights, the company says.
J.B. Hunt looks to expand the capabilities and service offerings of its technology platform. In August, the company launched a rewards program for third-party carriers and their drivers through Carrier 360 by J.B. Hunt, the digital component of J.B. Hunt 360 designed to help carriers save money, spend more time driving, and have an overall better experience.
In 2017, the company announced a five-year, $500 million investment dedicated to creating disruptive technology and enhancing operating systems and infrastructure. The investment is advancing J.B. Hunt's ability to see deeper within the supply chain, add new automation capabilities, and draw top talent in technology, engineering, data science, and logistics.
"J.B. Hunt continues to push the boundaries of what's possible within the transportation market by investing in innovative technologies that deliver seamless, digital service on a large scale," said Jett McCandless, CEO and founder of project44.