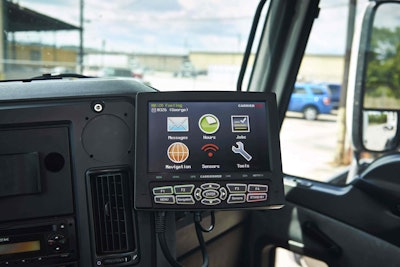 Following I.D. Systems' recent acquisition of CarrierWeb and integration of the business into the I.D. Systems Logistics Visibility group as PowerFleet for Logistics the company announced that Robert Heath Trucking will deploy the refrigerated and ELD-compliant system of PowerFleet for Logistics.
Founded in 1939, Robert Heath Trucking is a middle-market refrigerated trucking operation transporting food products throughout the central and western half of the United States.
"Having a great customer like Robert Heath deploy both our refrigerated trailer systems and our in-cab units with ELD is a testament to the value of our recent CarrierWeb acquisition," said Norm Thomas, vice president and general manager of I.D. Systems' Logistics Visibility group.
The I.D. Systems ELD-compliant system is powered by the LV9000 hardware device, an on-board system with two-way communication and customized driver workflow.
The PowerFleet in-cab system also provides real-time positions, engine performance information, and supports ALK's PC Miler truck-specific navigation.
The PowerFleet refrigerated system is integrated with Carrier Transicold and Thermo King microprocessors for reefer monitoring of temperature, alarms, operational status and changes. In addition, it provides two-way command and control to adjust reefer conditions.