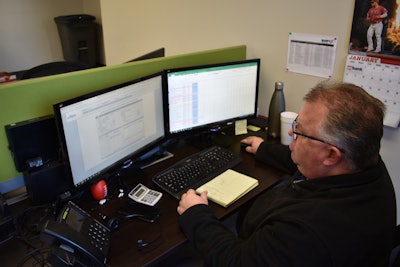 The Transportation Intermediaries Association (TIA) has released an in-depth research whitepaper that provides a strategic blueprint and resources for asset-based companies to start and grow a brokerage.
"The opportunities in the market are ripe for companies of any size," said Robert Voltmann, TIA's president and CEO.
Logistics and supply chain research and consulting firm Armstrong & Associates estimates that net revenues for U.S.-based 3PLs grew by five percent in 2017 to hit $77.1 billion, and gross revenues rose 10.5 percent to reach $184.3 million.  The firm predicted revenue growth in 2018 would continue at a similar rate in 2019.
Motor carriers that start a brokerage are faced with challenges, however. The whitepaper offers advice from successful large and small brokerage companies, as well as legal and business experts with resources from TIA to help startups quickly advance.
One of the contributors to the report is Alec Gizzi, CTB, executive vice president of JBS Logistics & Warehousing, who said that analysis of a company's processes and strategies for the asset side of the business may need to be refocused and refined to make logistics successful.
"It is very difficult to get into this market today without some type of service that makes you a little bit unique," he says.
The paper covers numerous topics to help startups stay ahead of the curve and maximize growth such as how to pool talent, capital and technology resources from the asset side of the business to operate at scale. The report also contains important legal, business and technology strategies to accelerate success.
The people, processes and technology of logistics are different from trucking, and the paper shows how asset-based logistics providers can get both sides of their business to work together and independently.
Along with information given in the Asset Based Whitepaper, the TIA offers programs to help companies take the next steps such as TIA's New Broke Course or Certified Broker Course.
The whitepaper can be found on TIA's website, tianet.org, and can also be downloaded by clicking on this link.