Trucking news and briefs for Wednesday, July 19, 2023:
DAT, Convoy settle ongoing lawsuit
A series of lawsuits and countersuits between load board operator DAT and digital brokerage company Convoy has been resolved through an "amicable settlement," the companies announced Tuesday.
"DAT and Convoy have amicably resolved their dispute on confidential terms, including a payment by Convoy to DAT to avoid the uncertainty and expense of continued litigation," the companies said in a joint statement. "Convoy recognizes and appreciates DAT's significant contributions to the freight industry, and both Convoy and DAT are pleased to put this dispute behind them."
The lawsuits stemmed from allegations from DAT last year that Convoy used mutually-agreed-to limited access to DAT's load board to develop its Convoy for Brokers platform that launched in November 2021.
According to the lawsuit, Convoy used its access to DAT "to misappropriate data and trade secrets belonging to DAT" and to "create its own competing load board by using DAT's data and trade secrets."
In response, Convoy countersued DAT, alleging that DAT is a monopoly in the load board market. The countersuit claimed that the non-compete clauses in DAT's contract that companies don't develop a competing load board, such as the one Convoy agreed to, are "anticompetitive forced agreements to allocate the market, and to allocate it all to DAT."
Inmate's request for driver training regs relief denied
The Federal Motor Carrier Safety Administration has denied an exemption request from Robert Towle, an inmate in the New Hampshire State Prison, from portions of the Entry-Level Driver Training (ELDT) regulations.
Towle sought an exemption on behalf of graduating students of the CDL Prep Class of the New Hampshire Department of Corrections' Granite State High School (GSHS) from two requirements in the entry-level driver training (ELDT) regulations: that a training provider use instructors who meet the definition of "theory instructor;" and from the requirement that an individual who applies for the first time for a Class A or B CDL, or who upgrades to a Class A or B CDL, must complete training from a provider listed on the Training Provider Registry.
In his request, Towle said the exemptions would allow eligible students at GSHS to receive the requisite theory instruction in order to obtain their Commercial Learner's Permit as a step towards job-readiness as part of their community re-entry plan.
In denying the "theory instructor" exemption request, FMCSA said it "believes that the requisite two years' experience in operating a CMV for which training is to be provided , or in providing [behind-the-wheel] instruction for the operation of the CMV, is essential in providing appropriate theory instruction to entry-level drivers. These core qualification requirements are embedded in the definition of 'theory instructor.'"
FMCSA also denied the request for exemption from the requirement that those seeking a new CDL or to upgrade their CDL must complete training from a provider listed on the Training Provider Registry. The agency said Towle "did not provide sufficient evidence to establish that the exemption would provide an equivalent level of safety as compliance with the existing requirement that applicants obtain theory instruction from a training provider listed on the TPR."
FMCSA added that the TPR "is a critical piece of the ELDT program," adding that "the TPR, by receiving and retaining driver certification information from training providers and relaying it to states prior to the issuance of a Class A or Class B [CDL], also ensures that individual CDL applicants receive ELDT from a qualified training provider."
[Related: Inmate seeks regs relief from driver training rules]
Ryder expands diesel tech training programs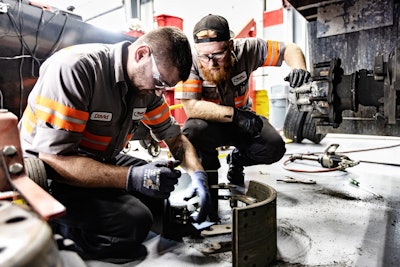 Ryder System is expanding its diesel maintenance technician training programs to further enhance the recruitment and training of professional technicians.
Ryder's various learning initiatives aim to provide student trainees, early career professionals and military veterans with best-in-class training, course curriculum and mentorship opportunities.
"Throughout the industry, there is a shortage of qualified technicians, which is why Ryder is continuing to make significant investments in further developing skilled technicians," says Bill Dawson, senior vice president and chief of operations at Ryder. "Our training programs are designed to cultivate essential skills for technicians at various stages of their career – to support their job and skills progression as the future of Ryder's logistics workforce."
Ryder plans to expand its three existing Ryder Technician Excellence Centers, located in Doraville, Georgia, Philadelphia, and Houston to include several new locations throughout North America in the near future.
Each center will offer a six-week curriculum that delivers instructor-led classrooms and hands-on training on topics such as preventive maintenance, tire and wheel diagnostics and repair, battery and voltmeter basics, circuit testing and fundamentals of air, and hydraulic brake systems.
Ryder's diesel maintenance technician training program updates also include the launch of the Ryder Accelerated Maintenance Program (RAMP), which offers high school seniors an opportunity to obtain hands-on experience by working part-time in a Ryder facility. Through RAMP, student trainees are partnered with certified Ryder diesel maintenance technicians, who serve as volunteer mentors by providing coaching and performance feedback that aligns with a school's automotive or diesel program. Upon successful completion of the program, students will have the option of exploring full-time employment at a Ryder location.
Ryder's Technician Trainee Program is an intensive 18-month, blended-learning curriculum that begins with training on how to engage with customers, conduct multi-point vehicle inspections, and fuel vehicles.
Throughout the program, the technician trainee will complete numerous training assignments, from one-on-one interactions with employees in various operational roles to technical instructor-led classes on foundational topics such as air conditioning, heavy-duty electrical systems, and Ryder's preventive maintenance.
Finally, the company is also working to leverage and strengthen the unique work experiences, transferrable skills, and inherent leadership qualities of military personnel. Since 2016, Ryder's Pathway Home program has been easing the transition to civilian life for hundreds of U.S. soldiers through a 12-week diesel maintenance technician training course, as well as offering employment opportunities as a Ryder technician upon completion of the training.
[Related: ATRI identifies detention, diesel tech shortage, more as 2023 top priorities]
Penske completes two acquisitions
Penske recently announced the completion of the acquisition of Star Truck Rentals and Kris-Way Truck Leasing.
Star Truck Rentals adds 1,900 vehicles and 18 locations throughout Michigan and Indiana. The Kris-Way deal adds 900 vehicles and seven locations in Maine and New Hampshire. Penske said it will integrate the facilities, staff, vehicles and processes of both companies into its existing network.
Penske, headquartered in Reading, Pennsylvania, operates and maintains more than 431,700 vehicles. It has 930 maintenance facilities and more than 2,570 rental locations in North America.