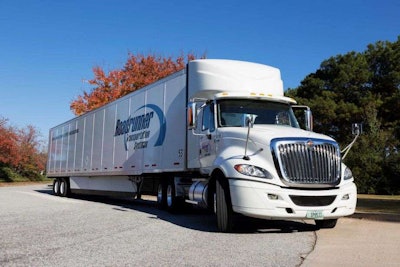 A federal jury on Monday convicted former Roadrunner Transportation (CCJ Top 250, No. 47) CFO Peter R. Armbruster on four counts of violating federal securities laws in what the Department of Justice called a "complex securities and accounting fraud scheme" that resulted in a loss of more than $245 million in shareholder value.
Roadrunner, once one of the country's largest publicly traded trucking and logistics companies, acknowledged in January 2018 that accounting discrepancies occurred between 2011 and 2016, and the company reissued financial statements for 2015 and 2016. Roadrunner said then "an internal investigation found the company overstated its net income by approximately $66.5 million" in that time frame.
The company also overhauled its executive team after the discovery of the accounting discrepancies, including replacing Armbruster.
Following a 14-day trial, the Eastern District of Wisconsin convicted Armbruster on one count of securities fraud, one count of misleading Roadrunner's auditors, and two counts of falsifying Roadrunner's books and records. Armbruster awaits sentencing October 29 and faces a maximum prison sentence of 25 years for securities fraud, 20 years for misleading auditors, and 20 years for each books and record violation, according to the DoJ.
When Armbruster and two fellow Roadrunner employees were first charged in 2019, the DoJ alleged them as having "used sham accounting entries, misstated accounts, and other means to conceal millions of dollars of bad debts and other financial problems from Roadrunner's shareholders, regulators, lenders, and the investing public."
"This pattern of deception allegedly caused investors to lose hundreds of millions of dollars. The Department of Justice and our law enforcement partners are committed to protecting investors and safeguarding the integrity of our markets by holding culpable executives to account for securities and accounting fraud," the DoJ continued.
In March 2020, Roadrunner voluntarily delisted itself from the New York Stock Exchange, which freed it from reporting requirements to the SEC. Roadrunner, at the time, cited a low number of stockholders and legal and administrative costs associated with listing on the NYSE as cause for delisting. Roadrunner's stock now trades on the less-regulated OTC Markets Group.
Last year, Roadrunner sold off three of its truckload subsidiaries, leaving the company solely with its less-than-truckload operations. This followed the company selling off its intermodal, flatbed and warehousing businesses, as well as subsidiary Stagecoach Cartage, after reporting a net loss of $266 million in 2019.