Trucking news and briefs for Wednesday, April 19, 2023:
ATA: Truck tonnage down 5.4% in March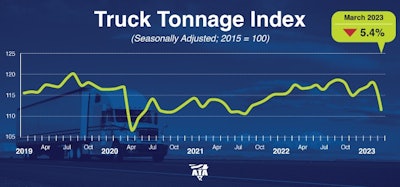 The amount of freight hauled on trucks during March fell 5.4% from February, marking the largest single-month decline since the beginning of the pandemic, according to the American Trucking Associations' For-Hire Truck Tonnage Index.
ATA's advanced seasonally adjusted index equaled 111.6 (2015=100) in March compared with 118 in February.
"After increasing a total of 2.6% during the three previous months, March's sequential decline was the largest monthly drop since April 2020 during the start of the pandemic," said ATA Chief Economist Bob Costello. "Falling home construction, decreasing factory output and soft retail sales all hurt contract freight tonnage – which dominates ATA's tonnage index – during the month. Despite the largest year-over-year drop since October 2020, contract freight remains more robust than the spot market, which continues to see prolonged weakness."
Compared with March 2022, the SA index decreased 5%, which was the first year-over-year decrease since August 2021. In February, the index was up 1.9% from a year earlier. During the first quarter, tonnage was 0.6% below the same three-month period in 2022.
The not seasonally adjusted index, which represents the change in tonnage actually hauled by the fleets before any seasonal adjustment, equaled 117.2 in March, 9.3% above the February level (107.2).
HVAC blower motor defect prompts International recall
Navistar is recalling nearly 45,000 trucks and buses due to a wiring issue related to the heating, ventilation, and air-conditioning (HVAC) system, according to National Highway Traffic Safety Administration documents.
The recall impacts approximately 44,887 model year 2016-'20 International DuraStar and WorkStar; 2017-'18 TranStar; 2018 ProStar; 2020 HV and MV trucks and 2018 IC Bus HC models. In the affected trucks and buses, the HVAC blower motor circuit may have an insufficient wiring terminal that can overheat, which can increase the risk of fire.
Dealers will replace the HVAC blower motor load circuit wiring terminal, free of charge. Owner notification letters are expected to be mailed June 5. Owners can contact Navistar's customer service at 800-448-7825 with recall number 23510. NHTSA's recall number is 23V-248.
Nikola, Volvo electric trucks recalled
Electric truck maker Nikola and Volvo Trucks North America have each announced recalls affecting Class 8 electric trucks.
Nikola's recall affects approximately 364 model year 2022-2024 Nikola Tre BEV trucks due to an issue in which the electronic parking brake valve module (PVM) may fail to move into the park position when the parking brake is activated. A parking brake that is not engaged as expected when the driver releases the brakes may allow the vehicle to rollaway, the recall states.
Dealers will replace the PVM, free of charge. Owner notification letters are expected to be mailed May 1. Owners can contact Nikola customer service at 1-630-808-4531 with recall number 23VDC0301. NHTSA's recall number is 23V-249.
Volvo's recall impacts approximately 236 model year 2020-2023 VNR Electric trucks equipped with adaptive cruise control (ACC). When the ACC braking activates under light load conditions, it can trigger an aggressive braking response, possibly resulting in the rear axle skidding, the brakes locking up, and/or a loss of vehicle control.
The remedy is currently under development. Owner notification letters are expected to be mailed June 2. Owners can contact Volvo Trucks' customer service at 1-800-528-6586 with recall number RVXX2303. NHTSA's recall number is 23V-255.
Daimler recalls 300 trucks over steering issue
A steering issue has prompted Daimler Trucks North America to recall approximately 306 trucks, buses and chassis.
Affected vehicles include the following: 2022 Freightliner Custom Chassis Corporation MT45G and S2C 106 and 2022-'23 FCCC MT50E, MT55 and S2RV chassis; 2023 Freightliner 108 SD, 114 SD, Cascadia, and M2 106 trucks; 2023 FCCC XCM, XCR and XCS chassis; 2023 Thomas Built Bus SAF-T-LINER C2; and 2023 Western Star 4700, 47X, 4900 and 49X trucks.
In the affected vehicles, the tie rod may be missing a fastener, allowing the steer arm to detach, which could result in a loss of steering.
The remedy is currently under development. Owner notification letters are expected to be mailed June 4. Owners can contact DTNA customer service at 800-547-0712 with recall number FL970. NHTSA's recall number is 23V-238.
Coca-Cola Canada adds six electric Volvos to fleet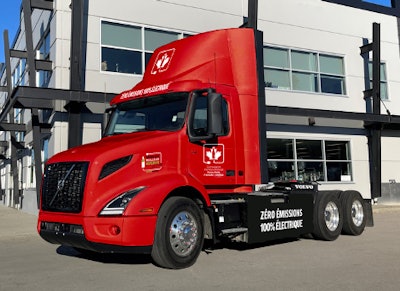 Volvo Trucks North America recently announced Coca-Cola Canada Bottling Limited (Coke Canada Bottling) is acquiring six Volvo VNR Electric trucks as part of a pilot program to service their iconic 'Red Fleet' customer delivery routes throughout the greater Montreal area.
The six trucks are the first Class 8 battery-electric trucks in the beverage distributor's fleet of 650 heavy-duty vehicles to service customers throughout the region. Coke Canada Bottling is the first Canadian food and beverage manufacturer to use zero-tailpipe emission trucks and all six Volvo VNR Electric trucks will be delivered throughout 2023.
As part of Coke Canada Bottling's "Toward a Better Future Together" environmental sustainability action plan, the 6x4 Volvo VNR Electric trucks will contribute to the company's goal of reducing carbon emissions from direct sources and supplied energy by 46.2% by 2030.
"Coke Canada Bottling is making tremendous strides towards their environmental sustainability goals by adding Volvo VNR Electric trucks to their fleet to service their beverage customers in the greater Montreal region," said Peter Voorhoeve, President, Volvo Trucks North America. "It was an excellent opportunity to mark this clean fleet milestone during Earth Month with Coke Canada's employees and is a tremendous honor to partner with them as they continue their electromobility transition."
The battery-electric fleet features a six-battery configuration that can cover up to 440 km (275 miles) on a single charge, as the trucks make several daily round trips of 150 km (93 miles) from the company's distribution center in Montreal to customer locations.
"Our 'Red Fleet' is iconic on the roads of our country and, as we strive to become the leading beverage partner in Canada, we're extremely proud to partner with Volvo Trucks to be the first Canadian food and beverage manufacturer to use battery-electric trucks," said Todd Parsons, CEO at Coca-Cola Canada Bottling Limited.
To support charging its battery-electric fleet, Coke Canada Bottling is also installing three 150 kW DC chargers with nine dispensers at its Montreal distribution center. The charging infrastructure is anticipated to be complete in June 2023.