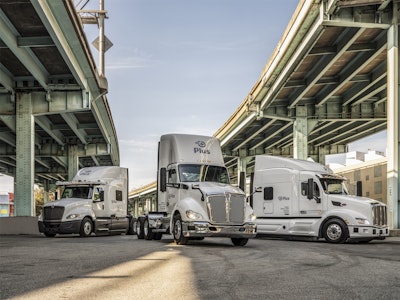 Several of the nation's largest fleets are investing in self-driving trucks. Ordering the trucks from a major original equipment manufacturer (OEM) is not an option at present, but carriers are now contracting with TuSimple, Plus, Locomation, Waymo and other companies that have developed self-driving technology.
Some OEMs are in the process of integrating the technology. TuSimple has a partnership with Navistar to offer self-driving trucks equipped with its autonomous driving system beginning in 2024.
Early investments in these systems by major fleets could disrupt the industry on an unprecedented scale, believes Criss Wilson, a data scientist at McLeod Software, a provider of transportation management software for carriers and freight brokers.
The reason Penske Truck Leasing, UPS, Schneider, U.S. Xpress, J.B. Hunt and other large fleets are on the bleeding edge of self-driving technology, he said, is "to have a first-mover advantage when autonomy becomes reality."
[Related: U.S. Xpress invests in autonomous trucking firm]
Being the first movers of autonomous trucks will give fleets a low-cost advantage, according to Wilson's data analysis.
"Class 8 trucking has a low barrier of entry for now," he said, but this will change when autonomous trucks are on the road. Owner operators, small and mid-size fleets may not have the capital to invest in autonomous trucks and may also lack the technology to support 24/7 operations with minimal human involvement, he said.
These and other factors could squeeze autonomous have-nots out of the trucking market, Wilson contends.
Raising productivity
Wilson developed a cost model for autonomous trucks more than a decade ago when managing transportation for a large shipper. The basic assumptions of his model have not changed. He believes fleets will be operating self-driving trucks with drivers in the cabs for the foreseeable future.
A number of states have embraced self-driving vehicles and allow trucks that meet the SAE definition of Level 5 autonomy on public roads. For now, testing is being done with drivers behind the wheel, in SAE Level 4 mode. Wilson believes the first movers will be running trucks in Level 4 and Level 5.
With Level 4, the driver needs to be on hand to take control of the vehicle if necessary. When a driver goes off duty or enters sleeper berth, however, he expects fleets will have their trucks go into a Level 5 mode to operate autonomously.
When this scenario becomes reality, "we will be in a much different cost structure," he said. Due to hours-of-service constraints, the maximum productivity that fleets can achieve today is 110,000 miles a year with a solo driver, he said. No truck or driver operates at 100% efficiency, however. Very few drivers utilize all 11 hours of drive time each day, he explains.
Fleets can realistically get 80,000 to 90,000 paid miles a year from each truck with a solo driver, he said, and the cost model assumes fleets can get between 200,000 and 300,000 productive miles a year with autonomous trucks. With this gain in productivity a fleet could quickly recover the added costs of self-driving technology, which he estimates to be anywhere from $30,000 to $100,000.
Wilson's data model shows that at 200,000 miles per year, a truck's fixed operating costs (interest, insurance, licensing, permitting, etc.) will effectively be cut in half. When variable costs are added, fleets can expect to see a 25% reduction in their overall cost per mile. With the additional revenue on those miles, trucking could be very profitable.
[Related: Who's liable in a self-driving truck crash?]
As for concerns that autonomous trucks will put drivers out of work or decrease their pay, Wilson expects the opposite will happen. When the first movers roll out self-driving trucks, he believes drivers will earn significantly more pay from being compensated on all miles they run when behind the wheel or off duty.
If a fleets pays $0.60 per mile, for example, a driver could make $120,000 a year by running 200,000 miles. A pay hike of this magnitude would immediately solve a fleet's driver recruiting and retention problem, Wilson predicts.
Automating the back office
While waiting for legislation to catch up with technology, motor carriers who are now planning for the future of autonomous vehicles should be taking steps to automate their back office, Wilson said. Load planning, dispatch and billing operations will need to run 24/7 with little or no human input.
Many fleets already use robotic process automation (RPA) tools in order entry, load planning, dispatch, billing and other workflows. Falling behind on automating the back office could put fleets in a bind when the time comes to put self-driving trucks into the mix, Wilson explains.
When running an autonomous vehicle, "you have to automate the support systems that drivers depend on [today]," he said. With this automation Wilson expects that fleets with self-driving trucks will be able to grow without adding office staff, the cost of which amounts to approximately $0.35 per mile.
To not be run out of business by the first movers, Wilson said smaller fleets and owner-operators need self-driving trucks to be democratized by OEMs and available for purchase in the mass market. At present, only fleets with established relationships and investments in high-tech suppliers have access to self-driving truck technology.
While the trucking industry is fragmented today, Wilson sees autonomous trucks as a game changer if access is limited to the largest fleets over the next few years.
"Consolidation is afoot," he said. Will OEMs make the technology available before the first movers have a chance to gain control of the market? If so, Wilson expects the future of autonomous trucks will have broad appeal.
"Our toes are on the line. All it takes is a wind shift with OEMs and we're in the world of autonomy," Wilson said.