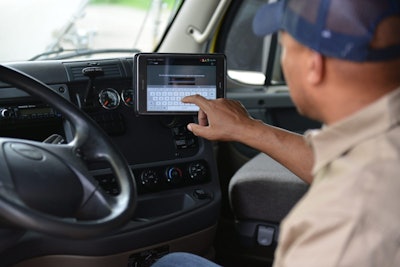 2017 started with President Donald Trump being sworn into office in January and ended with the electronic logging device mandate going into effect in December.
In between those two major events were plenty of headlines regarding both, along with other stories that affected the trucking industry in 2017, including the end of the Safety Fitness Determination rule, the end of some of 2013's 34-hour restart regulations and more.
Below is a monthly look at the biggest stories of the year.
January
Trump freezes regulations: In his first order of business as President, Donald Trump issued a regulatory freeze pending further review by him and his team. The order stifled a few trucking regulations in the works under the prior administration (see more on those below).
Trump orders "two for one" on regs: Following his first order to freeze new regulations, Trump issued another order that directed federal agencies to eliminate two existing regulations for every new one put into place. The move was intended to help small businesses, Trump said. This order seemingly hasn't yet affected the trucking industry.
FMCSA uses new techniques for on-site compliance reviews: The U.S. DOT began expanding how it conducts on-site compliance reviews of trucking companies by expanding the number of interviews performed with carrier employees and checking carriers' social media accounts.
February
FMCSA clarifies ELD 'grandfather' clause: Carriers using older ELDs that don't meet the compliance requirements of the mandate were given two more years to fully comply with the mandate, FMCSA clarified in February.
Trump's regulatory freeze likely kills speed limiter mandate: Joe Rajkovacz, head of regulatory affairs for the Western States Trucking Associations, said he believes Trump's order to freeze new regulations would be the end of any potential speed limiter mandate in the works. Rajkovacz was proven right later in the year, when FMCSA did place the speed limiter rule on the backburner, though it did not rescind the rule outright, meaning it could resume work on the rule at any point.
ELD compliance all about the data: While complying with the ELD mandate from a device standpoint may not be too difficult, knowing what to do with the data is another story for carriers.
March
34-hour restart regulations permanently rolled back: A study by the DOT revealed the some of the changes instituted by the 2013 hours-of-service rule showed no additional safety benefits. The results of the study meant truckers' 34-hour restarts no longer required two 1 a.m. to 5 a.m. periods and would not be limited to just once a week — the conclusion of a saga four years in the making.
FMCSA withdraws Safety Fitness rule: The Safety Fitness Determination rule meant to revamp FMCSA's carrier rating system was withdrawn in March. The rule had drawn concern over its reliance on the Compliance, Safety, Accountability program's Safety Measurement System.
April
CCJ's ELD Buyers' Guide: CCJ released its comprehensive guide to give fleets the information they need to purchase the right device for their operation.
Swift, Knight announce merger: Trucking giants Swift Transportation and Knight Transportation announced a merger that would give Swift shareholders 54 percent of the company and Knight shareholders the remaining 46 percent.
FMCSA issues update on split sleeper berth flexibility study: FMCSA's Kelly Regal told attendees at the Managing Fatigue conference the agency's study on split sleeper berth flexibility would likely enter the data collection phase in 2017.
May
Covenant subsidiary asks courts to limit liability in cargo theft claim: Covenant Transportation Group's Southern Refrigerated Transport asked a federal judge in May to reconsider a judgment that put the carrier on the hook for $6 million for a claim against a stolen load of pharmaceuticals.
Supreme Court to decide whether or not to hear ELD lawsuit: The Owner-Operator Independent Drivers Association petitioned the U.S. Supreme Court to hear its lawsuit against the ELD mandate. The nation's high court, as noted below, declined to hear the lawsuit, leaving in place the lower court's ruling to uphold the mandate.
Uber launches Uber Freight brokerage app: The ride-sharing giant launched officially entered the trucking industry with a freight matching app aimed at the owner-operator market with a focus on dry van and reefer loads.
June
Supreme Court declines to hear OOIDA's ELD lawsuit: The U.S. DOT earned another victory in June in the ongoing ELD saga when the U.S. Supreme Court decided not to hear OOIDA's case against the mandate, upholding the mandate's Dec. 18 compliance date.
Department of Labor rescinds memo affecting owner-operators: The Trump administration rescinded a 2015 memo that classified leased owner-operators as employees, allowing carriers to classify them as independent contractors.
Class-action lawsuit over pre-employment reports stalls: A class-action lawsuit brought by six truckers against FMCSA and the pre-employment reports it distributes to carriers was refused by the U.S. Supreme Court. The lawsuit alleged FMCSA shared too much information about drivers' violation history to prospective employers in the Pre-Employment Screening Program reports.
July
Legislation introduced in House to delay ELD mandate: Texas Rep. Brian Babin filed the ELD Extension Act of 2017 that, if enacted, would delay the ELD mandate for two years until December 2019. The bill ultimately saw no action in 2017.
House bill shields carriers from court-ordered payouts to drivers: The U.S. House unveiled a bill that would, if passed, prohibit states from requiring carriers to give drivers paid meal and rest breaks, as well as exempt livestock and insect haulers from the ELD mandate. Congress will likely resume work on the bill in the upcoming months.
Trump administration backs off of speed limiter, sleep apnea rulemakings: The U.S. DOT signaled it would no longer pursue a rulemaking to mandate the use of speed limiters for the trucking industry. The DOT's regulatory calendar update in July also hinted at the end of a sleep apnea rulemaking that had been in the works. The agency later rescinded the sleep apnea rulemaking, though it did not rescind the speed limiter rule, meaning the DOT can resume work no it at any point.
August
Walmart institutes new fees for early, late deliveries: Walmart began a new policy in August called "On-Time, In-Full" in which carriers will be charged extra fees for deliveries that are late, mispackaged or delivered earlier than the scheduled delivery time.
Navistar ordered to pay fleet $31M over MaxxForce engines: Navistar was ordered by a Tennessee jury to pay trucking company Milan Supply Chain Solutions $30.8 million in damages related to alleged defects in the company's MaxxForce engine line. The jury concluded Navistar violated consumer protection laws by selling the engines without proper testing.
FMCSA holds impromptu meetings on trucking regs: FMCSA began a three-stop tour to gather input from the industry on regulations, including CSA, ELDs and more, without informing the public the meetings would be taking place. Questions swirled around whether the agency had given proper legal notice for the meetings.
September
Attempt to delay ELD mandate flops in House: An amendment to a 2018 appropriations package to stall the ELD mandate for at least 10 months was voted down by the House, therefore it was not added to the package. Rep. Brian Babin filed the amendment as a follow-up to his standalone bill from July.
Natural disasters lead to suspension of hours regs in 26 states: FMCSA suspended hours-of-service regulations for truckers in 26 states hauling gasoline, diesel, aviation fuel, propane and other home heating fuels in the wake of Hurricane Harvey in Texas and Louisiana.
Trucker partly to blame in fatal 2016 Tesla crash: The National Transportation Safety Board determined that while the Tesla driver's reliance on the autonomous driving mode was mostly to blame in the high-profile crash, the trucker had also failed to yield the right-of-way to the oncoming car.
October
Week-long inspection spree set to begin: CCJ readers in October were on top of the Commercial Vehicle Safety Alliance's annual Operation Safe Driver Week, which ran from Oct. 15-21. During the week, enforcement officers were watching for speeding, distracted driving, seatbelt usage and more.
EPA to rescind glider kit emissions regs: The Environmental Protection Agency proposed in October to repeal the emissions regulations placed on glider kits. The regulations would have forced glider kit manufacturers to dramatically change their operations to meet the new standards.
Fleet involved in deadly human smuggling operation shut down: Pyle Transportation, based in Schaller, Iowa, was shut down by FMCSA following a compliance review that was triggered by a grisly human smuggling operation that left 10 people dead in San Antonio in July.
November
FMCSA announces ELD violations won't ding carriers' CSA scores until April: The agency that oversees the trucking industry announced in November that carriers hit with violations of the ELD mandate would not have points recorded against them in the CSA rating system until April.
Babin asks Trump directly for ELD mandate delay: Rep. Brian Babin was still fighting with just over a month before the ELD mandate took effect, as he wrote a letter requesting President Trump issue an executive order to delay the mandate until at least April 1.
Tesla Semi unveiled: The Tesla Semi made its debut in November at an event in Hawthorne, Calif. Tesla promises a range of up to 500 miles at maximum weight and highway speed.
December
Truckers rally in opposition to ELDs: Owner-operators and other drivers gathered as part of a so-called "ELD Media Blitz" two weeks before the mandate took effect. The rallies were held across the country in an attempt to bring attention to what drivers said were security, economic and safety issues associated with the mandate.
FMCSA clarifies personal use of trucks with ELD mandate: FMCSA released a proposal to alter guidance issued to carriers and drivers involving the use of their truck as a personal vehicle to travel home or to restaurants and motels along their route. The key change in the personal conveyance guidance is the removal of the requirement that trucks be unladen to be used for personal conveyance.
FMCSA issues waiver to delay ELD mandate for ag, livestock haulers: The U.S. DOT granted drivers hauling livestock and other agricultural commodities a waiver from compliance with the ELD mandate until March 18. The extension gave these drivers an extra 90 days to comply and gave FMCSA extra time to consider other ELD-related exemptions requested by drivers in the ag industry.