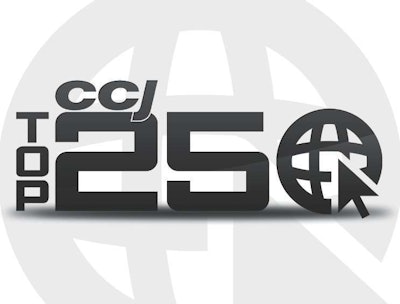 As we gear up for our 2014 CCJ Top 250 annual ranking of for-hire carriers, here's a look at some of the fleets that were highlighted in the 2013 edition. CCJ has ranked the top for-hire carrier in the industry since the late 1960s. Our comprehensive ranking takes into account not only revenues posted by a trucking companies, but also its fleet size and employment base.
For more information on the 2013 CCJ Top 250 ranking, and to download an Excel spreadsheet highlighting all factors that make up the ranking, click here. Contact Jeff Crissey at jcrissey@randallreilly.com for a submission form for the 2014 CCJ Top 250 list.
No. 238: Paper Transport, Green Bay, Wis.
No. 218: Dillon Transport, Inc., Burr Ridge, Ill.
No. 183: E.L. Hollingsworth & Co., Flint, Mich.
No. 151: Smith Transport, Inc., Roaring Spring, Penn.
No. 144: Hansen & Adkins Auto Transport, Los Alamitos, Calif.
No. 118: RoadOne IntermodaLogistics, Randolph, Mass.
No. 92: Epes Carriers, Greensboro, N.C.
No. 55: United Vision Logistics, Inc., Lafayette, La.
No. 27: Cardinal Logistics Management Corp., Concord, N.C.
No. 6: Schneider National Carriers, Inc., Green Bay, Wis.