It's been a busy year in the trucking industry with the first long-term highway bill passed in several years, the introduction of autonomous trucks, a bevy of new regulations and more.
Some of the most-read stories on CCJ involved highway bill developments throughout the year, updates on the crash involving actor Tracy Morgan, Freightliner's SuperTruck and Inspiration announcements and new and updated regulations.
Here, we'll take a look at the biggest stories from each month in 2015, and later this week, we'll recap the top stories of the entire year.
January
Leading off to start the year was one of several stories involving the court cases surrounding the June 7, 2014, crash that injured actor Tracy Morgan and killed comedian James McNair. McNair's family reached a wrongful death settlement with Wal-Mart and its private fleet.
On the regulatory side of the industry, drivers were no longer required to carry paper copies of their medical certification cards beginning in late January.
Also of interest to CCJ readers in January was a report from research done by Stay Metrics that indicated drivers are most satisfied with pay based on a percentage split of load revenue, rather than on mileage-based pay.
February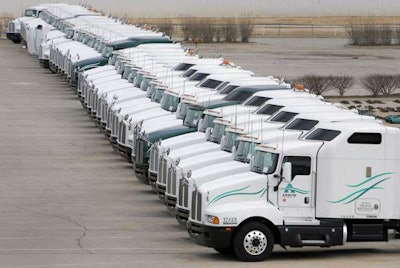 For the second month in a row, one of the top stories of the month stemmed from the Tracy Morgan crash – this time for a court denial of a request made by Wal-Mart driver Kevin Roper to delay civil proceedings. Roper's request was to delay the civil portion of the court proceedings pending resolution of his criminal case. Federal Magistrate Judge Lois Goodman denied his request, stating Roper didn't "establish that he should be allowed to intervene," adding that the court did not see it appropriate for Roper to intervene in the civil case.
Sticking with the theme of court cases, another big story in February was former Arrow Trucking president and CEO pleading guilty to conspiracy and tax evasion charges. James Douglas Pielsticker, who led Arrow until it's closure in December 2009, faced up to 10 years in prison and more than $50 million in fines.
March
Freightliner unveiled its futuristic SuperTruck concept vehicle at the Mid-America Trucking Show, which was the product of a five-year development process. The SuperTruck boasts a 115 percent boost in freight efficiency, a 50.2 percent increase in engine brake capability, a 54 percent reduction in overall aerodynamic drag and sustained 12.2 miles per gallon logged at 65 mph on I-35 between San Antonio and Dallas.
Kenworth in March also unveiled a new tractor — the Kenworth ICON 900, also introduced at MATS. The ICON 900 is a "highly stylized and modernized tribute" to the W900L, one of the most popular trucks ever manufactured. The Kenworth Icon 900 continued to grab attention on CCJ throughout 2015.
Highway bill talk ramped up in March when Transportation Secretary Anthony Foxx resubmitted a six-year, $478 billion highway funding plan labeled the Grow America Act. Though Congress didn't finish work on a long-term highway bill until December — and five short-term funding patches later — March kicked off a busy 9 months of highway bill
April
Concept trucks were a hot topic in April coming out of MATS in March. CCJ took a look at a few concept trucks including the aforementioned SuperTruck, Navistar's Project Horizon and Peterbilt's WAVE. The three trucks all focus on improved aerodynamics, which, especially in the case of the WAVE, can look like something from "The Jetsons."
Recruiting is always a conversation-starter for carriers, and Bruce Jenkins, who's in his 20s, weighed in on millennials' issues with the industry and what carriers can do to recruit them.
Also in the month, the Federal Motor Carrier Safety Administration announced it would be increasing fines violations of its Federal Motor Carrier Safety Regulations. The increases were mandated by 2012's MAP-21 highway funding law and were put in place to keep up with inflation, FMCSA said.
May
For the third consecutive month, a futuristic truck grabbed headlines. It was Freightliner once again, this time with its Inspiration autonomous truck. Freightliner unveiled the truck in spectacular fashion in Las Vegas, using the Hoover Dam as a backdrop for the introduction to the potential revolutionary technology. CCJ scored a test drive of the Inspiration and the March-unveiled SuperTruck.
The 2014 Tracy Morgan crash also saw action in the month. Morgan and Wal-Mart settled a civil suit from 2014, but the terms were not disclosed and the case files were sealed.
Also in May, a House committee passed a DOT-funding bill that would have, if passed, kept the hours-of-service rollback in place and prevented FMCSA from raising the minimum amount of liability insurance required to be held by motor carriers. Though that bill ultimately failed, both provisions were included in legislation later passed by Congress and enacted by the president.
June
Trucking company C.R. England made waves in June when a highly debated exemption request was granted by FMCSA. The exemption allowed C.R. England drivers with a CDL learner's permit to operate without a CDL holder in the front seat with them. The exemption will enable learner's permit holders to drive in team operations with a driver-trainer. Though a fully licensed driver will be in the vehicle, he or she won't be required to sit in the front seat, as federal law requires.
The Obama Administration said in early June it would "strongly consider vetoing" a bill that would extend the hours-of-service suspension from 2014. Although funding cuts to the Department of Housing and Urban Development was a big reason the Administration didn't like the bill, the trucking regulatory changes to the DOT section of the bill were also a factor. The full House, just a few days later, passed the appropriations bill.
In more regulatory news from June, FMCSA granted an exemption from the 30-minute rest break requirement to haulers of oversize/overweight loads. FMCSA said because there isn't ample parking for trucks with OS/OW loads, drivers oftentimes have to park on the shoulder of highways, causing a road hazard.
Also in June, the EPA and the DOT unveiled new emissions and fuel economy requirements for the trucking industry, set to phase into effect in the next 12 years, with the first set taking effect in 2018.
July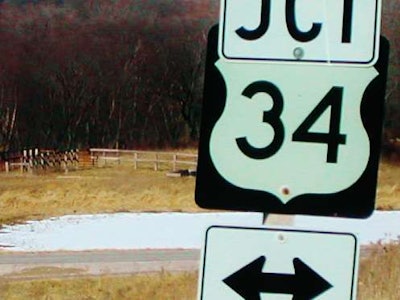 A trucking regulatory reform bill introduced in the Senate in July would have required drivers to be paid for all hours worked rather than solely per-mile. The bill saw little action, however, following its introduction.
J.B. Hunt published a report in July directed at shippers and receivers detailing how much of their drivers' time was wasted at because of inefficiencies outside of the carriers' and drivers' control. J.B. Hunt offered tips to shippers/receivers on how to be more efficient and keep drivers on the road.
The agency's final rule to mandate electronic logging devicestook a big step forward in July, as the Final Rule was sent to the White House's Office of Management and Budget for approval.
August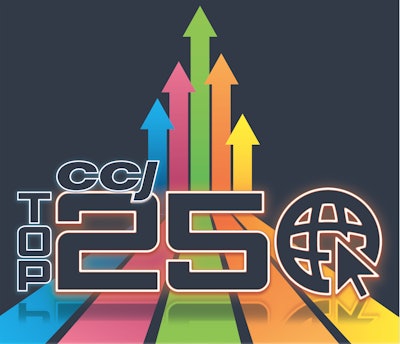 CCJ's Top 250 was unveiled in August, listing the top 250 carriers by revenues, fleet size and employment base. Carriers in this year's rankings accounted for a total of 650,688 power units, up from 606,274 last year.
Mega-carrier Swift made headlines in August, not just for being part of the CCJ Top 250 (No. 3), but also for Swift owner-operator Herbert Willoughby being awarded $2.6 million for physical and mental pain, medical expenses and past and future lost wages. Swift was found liable in a lawsuit brought by Willoughby, who claimed negligent maintenance practices by Swift caused a trailer to run over his foot.
September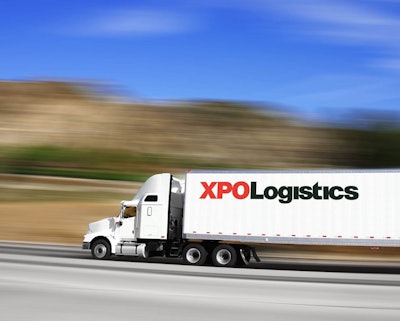 E-logs were once again a topic of discussion in September, this time because of another delay in the publication date of the rule. Throughout the year, the rule was scheduled to be published Sept. 30, but the DOT said in mid-September it would be delayed a month until Oct. 30. (Spoiler alert: It wasn't published by then, either.)
In a surprising acquisition, Con-way was purchased by XPO Logistics in a $3 billion deal. All divisions under Con-way were rebranded as XPO Logistics as a result of the acquisition. The deal also made XPO the second largest LTL carrier in North America.
Also in the month, CCJ took a look at the top 10 states for HOS violations in 2014.
October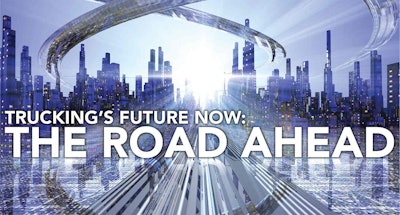 CCJ's Trucking's Future Now project was unveiled in October. The report addresses the key changes to transportation that likely will happen in the coming decades, from driverless vehicles that diagnose themselves to smartphones that analyze driver health and wellness, as well as other major infrastructure and logistical shifts on the horizon.
Also in October, another long-term highway bill draft was released. This one, however, had legs, helping lead to a final draft of a surface transportation funding act. The House Transportation Committee passed a six-year, $325 billion highway funding bill, laying the groundwork for a bi-partisan, bi-cameral agreement reached the next month.
Also in October, the Environmental Protection Agency fined Estes Express Lines nearly $400,000 for lacking diesel particulate filters on 73 trucks operating in California — the EPA's first foray into aiding California in enforcing its stringent truck emissions regulations.
November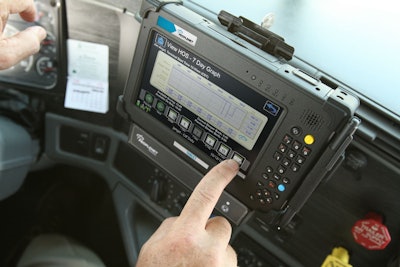 The ELD rule cleared the White House review process, which cleared the way for it to finally be published.
The House's passage of a long-term highway bill raised some questions about a section of the bill relating to carrier hiring standards. The standards in the House bill could have adversely affected approximately 440,000 carriers, opponents said.
A rule was published in late November that set up new fines for carriers, brokers, shippers and others for pressuring truck drivers to operate outside federal safety regulations. The driver coercion rule, which will go into effect Jan. 29, 2016, enacts fines of up to $16,000 for anyone who attempts to force drivers to violate federal rules.
December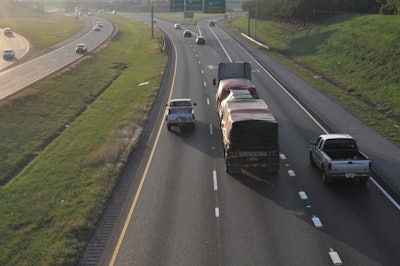 The year closed with a bang for the trucking industry. Leading off, Congress passed the five-year, $305 billion FAST Act surface transportation funding bill. The bill included CSA reform, driver drug testing reform, a mandated detention time study and an insurance rule study, changes to the FMCSA rulemaking process and more. Not included was size/weight reform, "carrier hiring standards," tolling changes and more.
The long-awaited electronic logging device rule was (finally) published this month as well, which will take effect Dec. 16, 2017, giving carriers and drivers a two-year window to comply with the rule's requirements.
Also along regulatory lines, the Carrier Safety Fitness Determination rule that gives FMCSA another means to score and target unsafe carriers cleared the White House's OMB, giving FMCSA the go-ahead for publication of the Notice of Proposed Rulemaking. Being a proposed version of the rule, there will be a comment period once it's published. The DOT has been working on the rule since 2007.